This Thai Chicken Skewers couldn't be quicker, simpler, or even more out of this world delicious. One bite of this chicken satay with Thai dipping sauce, you'll be dancing in your kitchen over and over again because they're that good!
Whew! The sun is shining somedays and spring is here. Unfortunately, it is almost over. Of course, we have longer days to bring you more spring/summer recipes like this chicken skewers.
I'm sure you can relate, having to do spring cleaning and preparing family meals in the midst of our ever-lasting long days.
At times it is helpful to minimize the stress of the day with a fun and simple meal. And of course an added bonus when it's pretty darn delicious and can be made in 10 minutes!
With that being said, here, we enter this chicken skewers accompanied by the Thai dipping sauce I shared in my earlier post.
Ingredients you'll need to make this recipe
If you recall from my air fryer fajita chicken skewers, which should have had you dancing salsa in your kitchen, no pun intended…really! This recipe on the other hand, should have you dreaming about the serene beaches in Thailand.
This recipe is infused with Thai flavors. Hence, the peanut sauce. Chicken satay is usually made of components of meat (beef, chicken, or fish), spices, and shredded coconut meat (this is not included in this recipe).
Then the meat is wrapped around a skewer and grilled over charcoal. However, in this recipe we are cooking it in the air fryer.
This is the easiest and the best way I've ever made chicken – EVER!! Period. Here's what you'll need:
Thai Dipping Sauce – The sauce is used as a "marinade" for the chicken. It season the meat and take the chicken to the next level of flavor with a hint of nutty flavor.
Chicken breast cut in bite size – Remember, you can also use boneless chicken thighs if preferred.
Zucchini or cucumbers – Either one will work. But you can use whichever vegetable you have available in your home.
Green onions – This is a staple when making Asian food.
Cherry tomatoes – Grill or cooks well on kabobs and adds a little extra earthiness to the meat.
Olive oil spray (optional for oven) – A little olive oil will not hurt, but it is not necessary for this recipe.
That's it! The secret is in the 1st Ingredient, the dipping sauce, to make these savory Chicken skewers right in your air fryer.
Not only you can make this recipe throughout the year, it also makes economic sense to make these skewers since you only need 6 items for ingredients.
Tips for making these chicken skewers in the air fryer
This recipe works with both chicken breast or chicken thighs. If using chicken thighs, I recommend using the boneless chicken thighs as it is easier to cut into bite size.
After preparing the dipping sauce, reserve about ¼ to ⅓ cup on the side for dipping. Do not use the same sauce which was used to season the chicken for dipping. This may cause sickness. Separating the sauce for dipping and marinating is important. It will help reduce the transfer of bacteria by not reusing the sauce the uncooked chicken is marinated in.
You do not need to let the chicken marinate prior to cooking it in the air fryer. The sauce is strong enough to stick to the meat.
Even if you don't own an air fryer, or if you are nervous around the grill, this recipe also works in the oven.
Serving Suggestions
As you know, I am notorious for racing against time. Seriously!! But this recipe doesn't get any easier than this.
From juggling our daily lives to creating tasty meals, this recipe certainly allows me some procrastinating room.
Chicken skewers, kebabs, or chicken kabobs are a classic dinner option, especially during the summer time. You can complete the meal by serving these chicken kababs over this dill rice or over this Haitian Black Rice.
Since you already have the air fryer out and running, you might as well try these Air Fryer Cinnamon Rolls with homemade cream cheese frosting or these Air Fryer Oreos for dessert!
By the way, it warms our hearts to see the recipes you make from this site, and we'd especially would love to know if you tried this recipe.
Tag me on Instagram or Facebook so I can see your beautiful dish.
Also, we would appreciate if could give it a star rating below!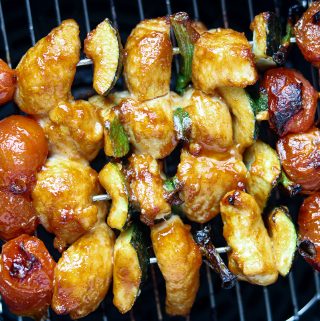 Air Fryer Thai Chicken Skewers With Dipping Sauce
Learn how to make the juiciest grilled chicken skewers in the air fryer with this easy chicken recipe and Thai dipping sauce.  Ready in 10 minutes!
Ingredients
1

lb.

Chicken Breast

Cut into 1-inch cubes

1

Small Zucchini

Or Cucumber; seeded & cut into small chunks

1

Cup

Cherry Tomatoes

2

Green Onions

Cut into 1-inch pieces

Olive Oil Spray

optional
For The Thai Dipping Sauce
⅓

Cup

Peanut Butter Creamy

2

Garlic Cloves Minced

1

Tsp.

Ground Cayenne Pepper

⅔

Cup

Teriyaki Sauce

3

Tbsp.

Orange Juice
Instructions
Wash and pat dry the chicken. Cut the chicken in bite size.

Cut the vegetables into bite size. Then thread the chicken and vegetables. 

Base the skewers with the dipping sauce with a brush, set the skewers on the rack, spray with olive (optional), then place the rack in the air fryer. 

If placed in the oven, I recommend using olive oil is to keep the meat from drying.

Cook for 10 minutes on 400 degrees, basting halfway of cooking. Once the chicken is done, carefully remove the rack. Place the skewers on a plate and enjoy with the Thai dipping sauce over rice or vegetables, if preferred. 
Thai Dipping Sauce Preparation
Combine the teriyaki sauce, cayenne pepper, peanut butter, orange juice, and garlic in a bowl. Mix well.

Reserve about ⅓ cup in a separate small bowl for dipping and set aside.
Nutrition
Serving:
6
People
Calories:
348
kcal
Carbohydrates:
18
g
Protein:
19
g
Fat:
21
g
Saturated Fat:
7
g
Polyunsaturated Fat:
2
g
Monounsaturated Fat:
4
g
Cholesterol:
61
mg
Sodium:
390
mg
Potassium:
246
mg
Fiber:
1
g
Sugar:
14
g
Vitamin A:
29
IU
Vitamin C:
15
mg
Calcium:
5
mg
Iron:
9
mg
More Air Fryer Recipes
What did you serve this air fryer skewers with? Let me know in the comments!