This one-pot meal Chinese Pepper Steak Recipe is so easy to make but has a strong and vibrant flavor that makes it feel like a real treat. This pepper beef steak is all you need to satisfy your taste buds.
Pepper steak has been made in the Caribbean for hundreds of years and is a staple in many island cuisines. Today, you may also know it as a Chinese American dish, although there are a few key differences in ingredients that give the Chinese meal a totally different flavor.
With tender beef, sweet peppers and a thick, tasty gravy, this pepper beef steak recipe is a real crowd-pleaser that everyone will enjoy.
About The Steak
The kind of cut you choose can have a huge impact on the end result of this dish. To avoid ending up with tough meat, we recommend flank or sirloin steak.
Neither are the cheapest cut, but because they come from the animal's abdomen, they are not used as much as the leg muscles like shank or chuck. This makes them perfect for this type of cooking.
Browning the meat is a vital step in sealing in all that delicious flavor and helping to keep it tender. For extra flavor and tenderness you might like to marinate your meat ahead of time, however the liquid in this recipe goes a long way in stopping the beef from drying out and helping it absorb all those tasty herbs and spices.
Browning vs Soy Sauce – Pepper Sauce For Steak
Traditionally, Jamaican pepper steak uses browning, a dark brown sauce made of brown sugar. This helps to give stews a richer flavor and a beautiful deep color. It's possible to buy pre-made browning at various stores, although depending on where you live it may be hard to find.
Making your own browning can't be beat, but soy sauce is a fine alternative should you not have the time or inclination.
Though it doesn't have quite the same depth of flavor, soy sauce works wonders for giving an extra boost to gravy-based meat dishes and adds a savory taste that makes this pepper steak dish totally irresistible.
For this recipe, we used light soy sauce to reduce the sodium intake and allow the flavors to come mainly from the steak and peppers.
About The Peppers
The bell peppers in this recipe help to give the dish some color, though if you prefer certain peppers over others, feel free to use just one or two. The only difference between green, yellow and red pepper is how long they were on the vine before they were harvested.
This does mean, however, that red peppers (grown for the longest time) have the most nutritional benefits. Compared to green bell peppers (those harvested earliest), the red ones have almost 11 times more beta-carotene and 1.5 times more vitamin C. Whichever color peppers you choose, they help to add a healthy kick to this nostalgic and comforting dish.
TIPS AND VARIATIONS
To make this dish Whole30 compliant or paleo, replace the soy sauce for liquid aminos and the corn starch for arrowroot.
To make this dish gluten-free, replace the soy sauce for water.
FREEZER DIRECTIONS
You can freeze leftover pepper steak in freezer safe containers. Let it cool completely before freezing. Reheat in the microwave and enjoy.
If you loved this pepper steak recipe, try this beef donburi recipe and this steak soup recipe, and this Haitian Tasso recipe next.
It warms our hearts to see the recipes you make from our site.
We'd especially would love to know if you tried this recipe, tag us on Instagram or Facebook so we can see your beautiful dish.
Also, we would appreciate if you could give it a star rating below! Please follow us on YouTube to see all of our latest videos!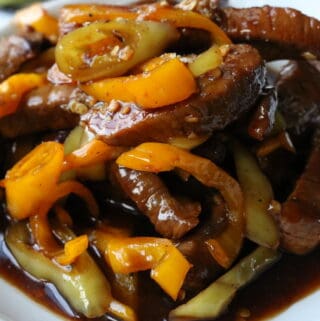 Pepper Steak
Incredibly easy and delicious one-pot meal, pepper steak that's infused with strong vibrant flavor, and screams comfort food.
Ingredients
½

Cup

Light soy sauce

½

Cup

Honey

1 ½

Tbsp.

Cornstarch

¼

Cup

Water

2

Tbsp.

Vegetable oil

1 ¼

Lb.

Stir Fry Beef Strips

1

Tsp.

Turmeric

1

Small onion

Chopped

1

Yellow bell pepper cored

seeded (optional) and cut into strips

1

Green bell pepper cored

seeded (optional) and cut into strips

1

Tbsp.

Minced garlic
Instructions
In a small bowl, whisk together the soy sauce, water, honey, and cornstarch. Set aside.

Heat the vegetable oil over medium high heat in a large pan.

Add the steak to the pan and cook until lightly browned on all sides. Once lightly brown, add the turmeric. 
Video
Notes
*** Calories are estimated per serving ***
Nutrition
Serving:
6
People
Calories:
231
kcal
Carbohydrates:
8
g
Protein:
21
g
Fat:
12
g
Saturated Fat:
4
g
Polyunsaturated Fat:
3
g
Monounsaturated Fat:
1
g
Cholesterol:
63
mg
Sodium:
1612
mg
Potassium:
20
mg
Fiber:
1
g
Sugar:
3
g
Vitamin A:
18
IU
Vitamin C:
71
mg
Iron:
10
mg