This homemade vegan BBQ sauce will make you want to grill all year long. It is tangy and sweet. The ingredients come together in a saucepan to create an irresistible bold flavor. In less than 15 minutes you'll have a homemade BBQ sauce with nearly no effort!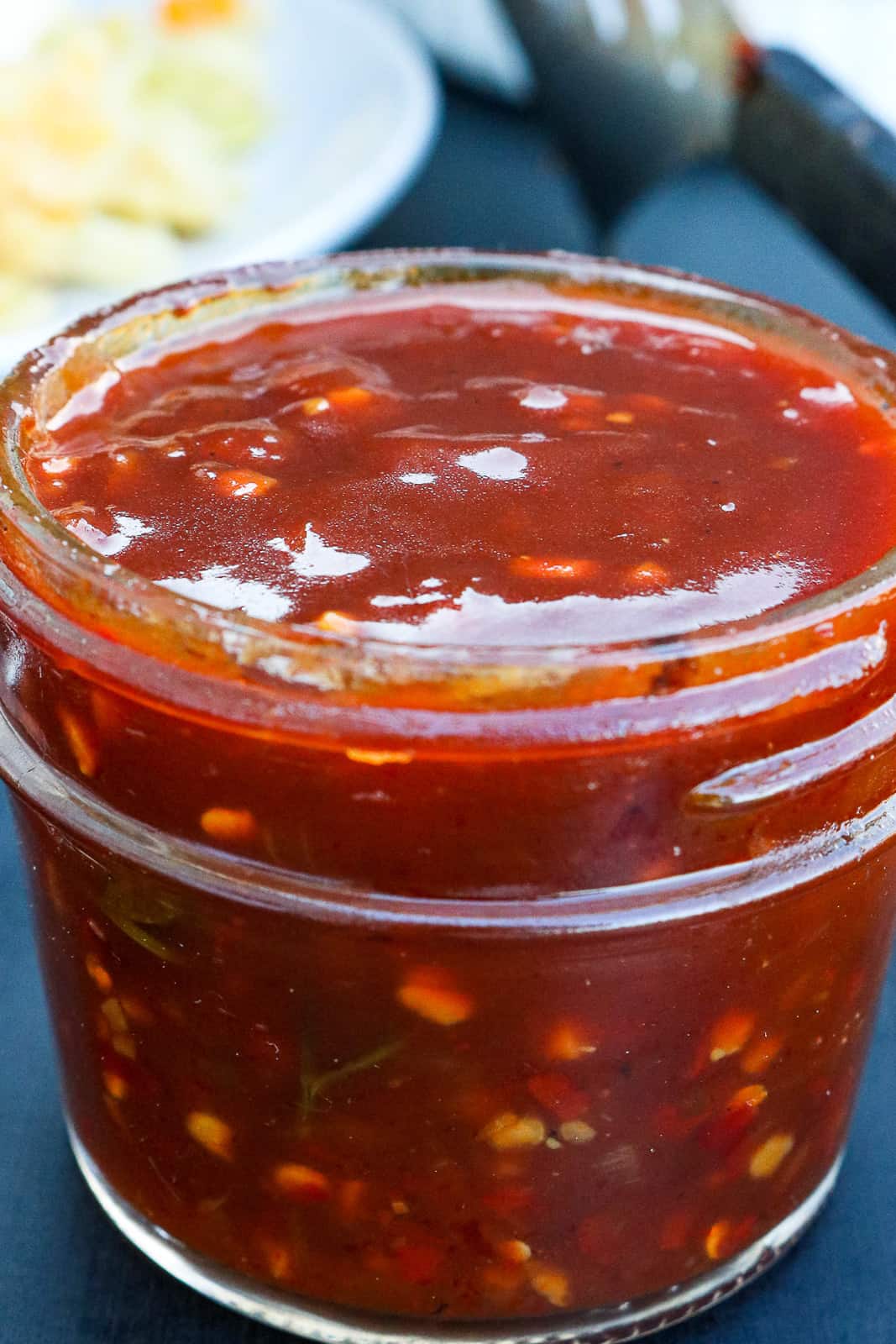 Vegan BBQ Sauce
AJ decided to make this recipe because he ran out of barbecue sauce during one of our cookouts.
This recipe was quickly adopted based on everyone's reaction to it at the cookout. The tangy, spicy with a hint of sweetness married well with meats and vegetables alike.
Of course in order to adapt to everyone's palate outside of our immediate circle, we altered this recipe a bit by removing the spicy ingredients.
But I would suggest adding cayenne or crushed red peppers for a little kick. The original recipe and the one we currently use at home do include actual scotch bonnet peppers crushed in the sauce.
No! it is not overly spicy, just flavorful.
This recipe comes together using a handful of pantry ingredients and can be whipped up in minutes.
Instead of mixing everything in a mixing bowl, we are finishing this sauce over the stove and then slather it all over the preferred protein.
Ingredients Used To Make This Vegan Barbecue Sauce
BBQ is an American cuisine that never goes out of style, it is celebrated and loved across the country.
Whether you love sticky wings, tender ribs, or a juicy burger, you should always have some delicious sauce on hand to get your BBQ fix.
This vegan barbecue sauce works just as well on vegetables as it does on meats. It is definitely friendly to everyone's lifestyle.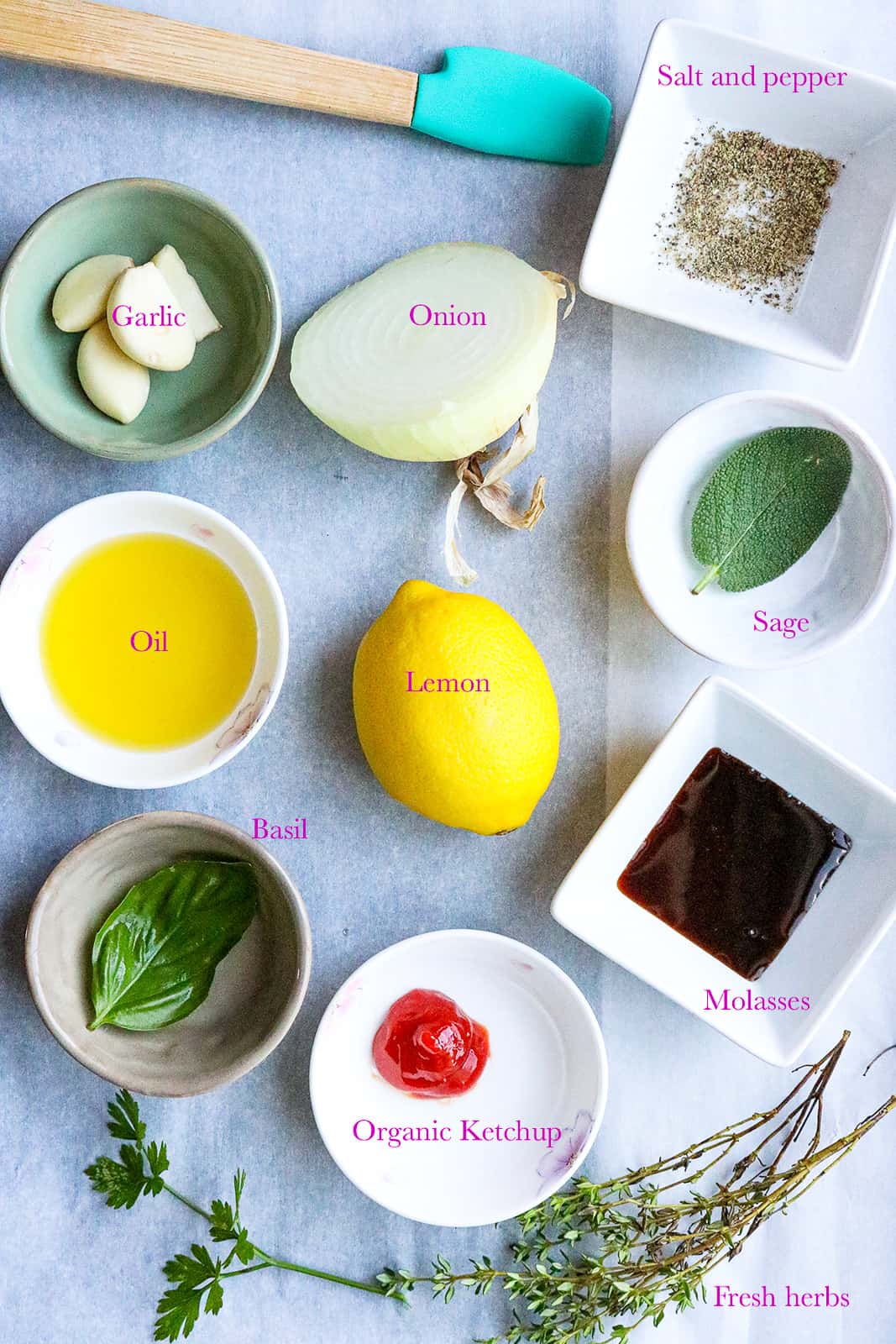 The complete full ingredients are listed below. In the meantime, here are a few of the base ingredients that are used to make this sauce.
Ketchup: To make this vegan BBQ sauce, we are starting with organic tomato ketchup as one of the bases.
It's best to use a high-quality ketchup to really help with the overall flavor of your dish, and give it the desired consistency.
If you have a favorite, by all means, use it, but you might prefer to use ketchup without any high fructose corn syrup to avoid the end result being too sickly sweet and unhealthy.
Molasses: It's important that you use Molasses to keep it on the healthier side. Molasses has iron, selenium, and copper, all to help maintain healthy bones.
If you are not a fan of molasses,  brown sugar can be used instead of white sugar, as brown sugar has added molasses that give it a better depth of flavor.
Not only will it help to sweeten your BBQ sauce, but it will also bring out the flavors of your other ingredients.
If you prefer a less sweet BBQ sauce, then modify the molasses amount and taste as you go.
Sauce Variations
Honey: Another element of sweetness, honey will also create a beautiful glaze, creating a thick and sticky sauce that will coat all your BBQ meat.
You may even be able to find a local honey provider to help make your BBQ sauce extra special.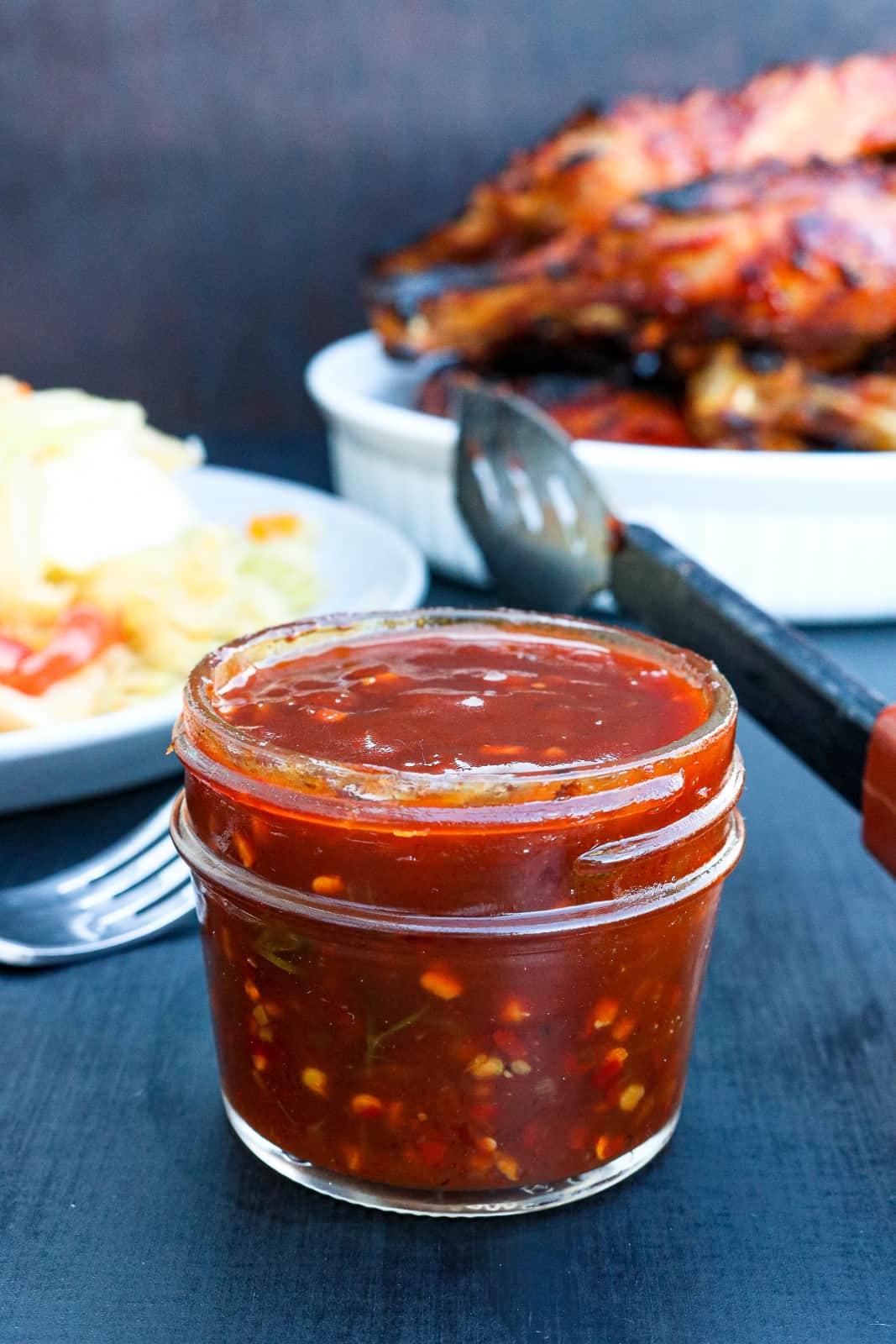 Runny honey is the best option, thanks to its consistency, it will easily combine with the other ingredients.
Worcestershire Sauce: This fermented English condiment is perfect for balancing out the sweetness of BBQ sauce and adds a tangy, savory kick. Worcestershire sauce does usually contain fish, so if you would like to make a vegan BBQ sauce be sure to look for one without.
Similarly, if you cannot eat gluten, you could substitute Worcestershire sauce with coconut aminos.
Apple Cider Vinegar: Vinegar also helps to cut through the sweetness and adds that familiar BBQ tang.
Thanks to its acidic base, it also works wonders in helping to tenderize your meat and also means your sauce will keep for longer.
If you don't have it to hand, any kind of vinegar will do, but apple cider vinegar will help impart that classic BBQ taste.
How To Use This Vegan BBQ Sauce
Now that you have finished this amazingly delicious sauce, you need to know what to do with it. Here are some of my favorite recipes to slather in this vegan barbecue sauce: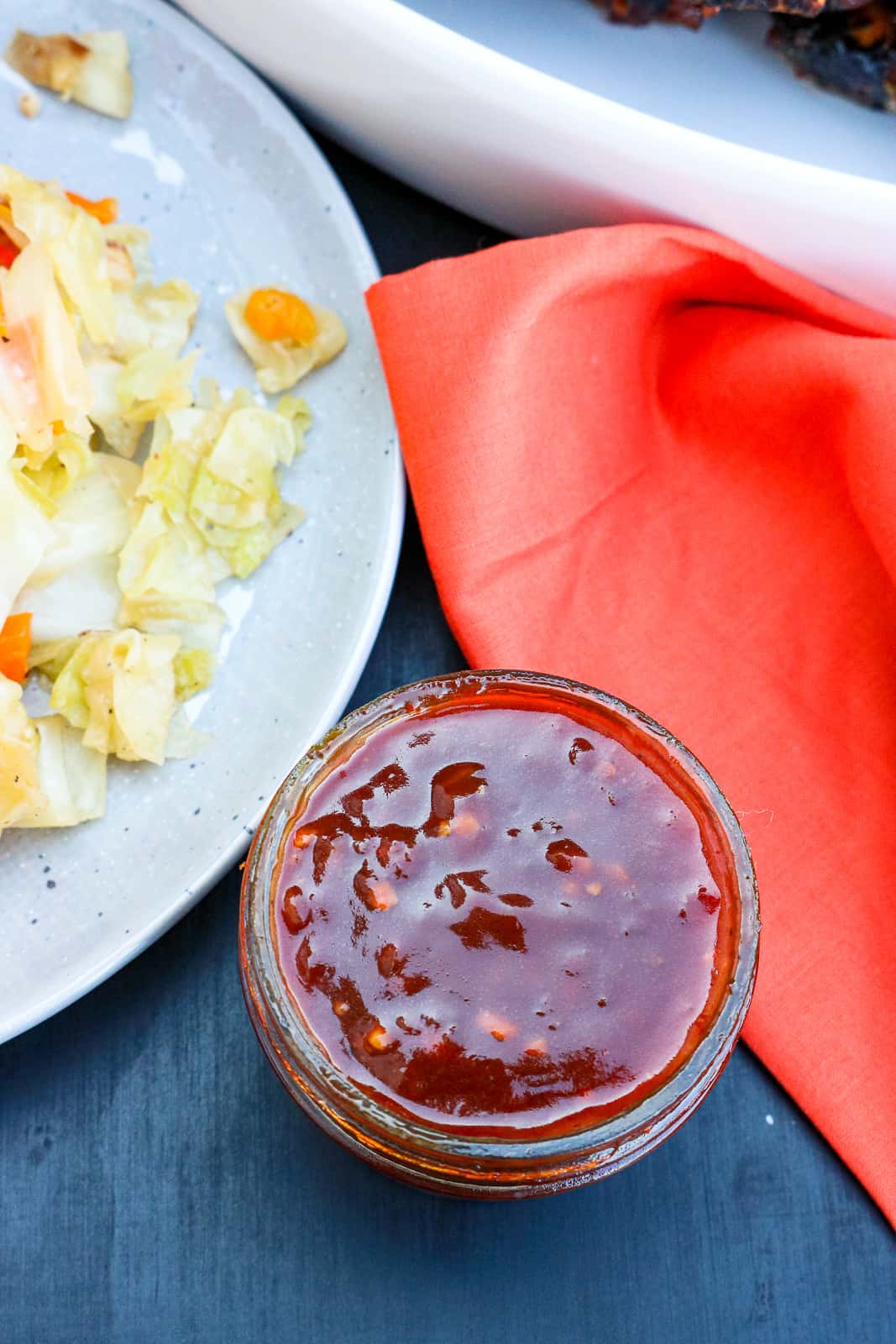 Frequently Asked Question(s)
What Can I Use The Vegan BBQ Sauce for?
Versatile and delicious, BBQ sauce is a great ingredient to have handy. As well as using it on meat, there are a number of things you can do with this sweet and tangy sauce. You could:
– Use it in place of tomato sauce on homemade pizza
– Add it to burgers
– Use it as a dip for fries or chicken nuggets
– Make baked beans with it
How Long Can I Keep The Sauce?
Store your homemade BBQ sauce in an airtight container and it will keep in the refrigerator for up to 2 weeks. Just make sure that you allow the sauce to cool off before you put it away.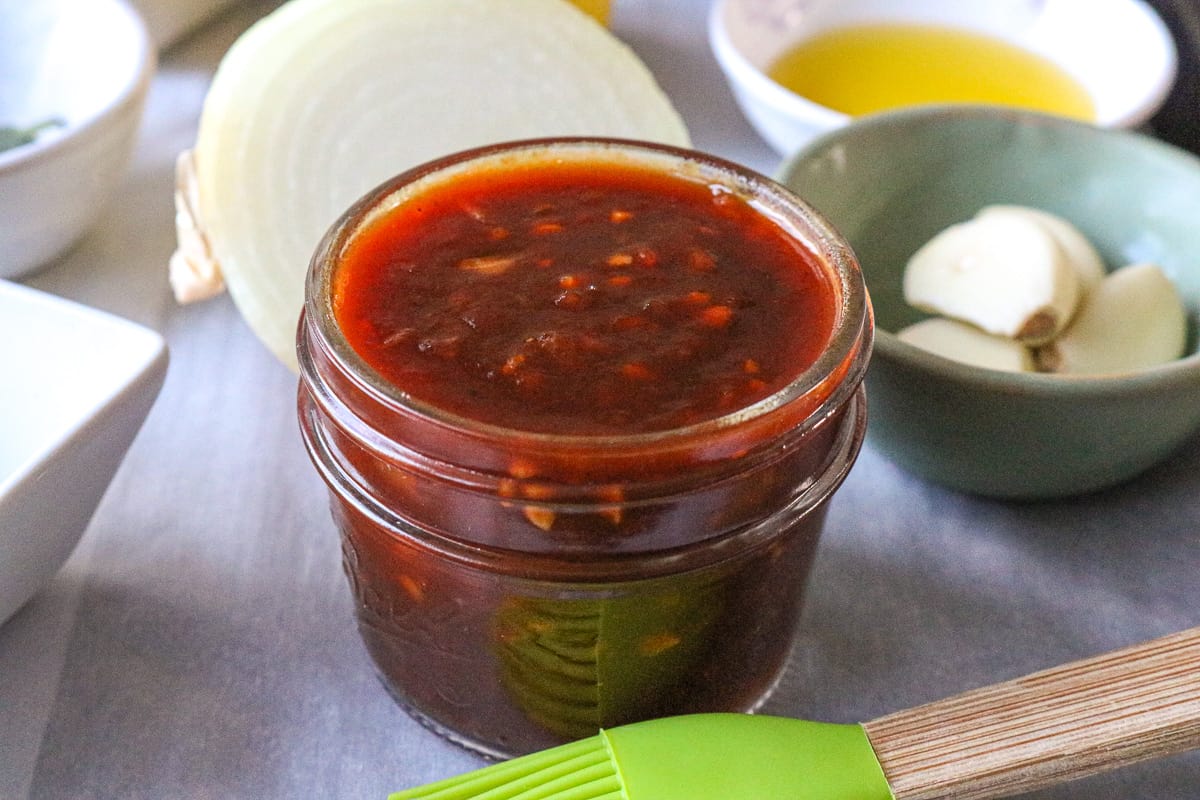 For More Delicious Vegan Recipes
By the way, it warms our hearts to see the recipes you make from our site.
We'd especially love to know if you have tried this recipe, tag us on Instagram or Facebook so we can see your beautiful dish.
Also, we would appreciate it if could give it a star rating below!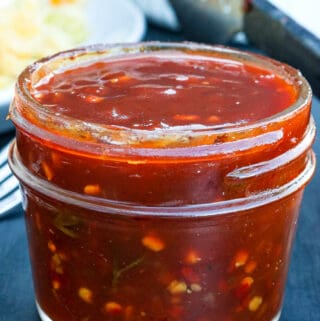 Vegan Barbecue Sauce
Tangy and sweet with an irresistible bold flavor, this vegan BBQ sauce has it all. Ready in 15 minutes or less and does not disappoint!
Ingredients
¾

Cup

Organic Ketchup

½

Cup

Organic Molasses

1

Tbsp.

Olive Oil

1

Tbsp.

Garlic

Minced, or about 4 cloves

½

Tsp.

Black Pepper

1

Tbsp.

Lemon Juice

1

Sprig Thyme

2

Sprigs Parsley

1

Basil Leaf

1

Sage Leaf

1

Small Onion

Minced

Cayenne Pepper

Optional; for heat
Instructions
Video
Notes
Store this vegan bbq sauce recipe in an airtight container. It will keep in the refrigerator for up to 2 weeks. Just make sure that you allow the sauce to cool off before you put it away.
*** Calories are estimated per serving ***
Nutrition
Serving:
10
People
Calories:
89
kcal
Carbohydrates:
17
g
Fat:
1
g
Monounsaturated Fat:
1
g
Sodium:
213
mg
Potassium:
73
mg
Sugar:
14
g
Vitamin A:
3
IU
Vitamin C:
3
mg
Calcium:
4
mg
Iron:
5
mg