There are tons of tabbouleh salad recipes out there, but this Lebanese inspired bulgur recipe is the one you need to make! A simple Middle Eastern vegetarian recipe that features bulgur as the main ingredient, fresh herbs and lemon juice.
This simple tabbouleh salad recipe focuses on bold fresh flavors which pairs well with poultry recipes like this poulet en sauce, or with this salmon steak. It's refreshing, super light and is packed with healthy ingredients.
There are so many ways to make it, but this recipe has been our go to. It is light, easy to put together, and remains an enjoyable pleaser.
Tabbouleh Recipe Ingredients:
Below are the ingredients I've used to make this recipe. All the ingredients in this recipe is not only tasteful, they are also inexpensive and easy to put together.
It is healthy, considering it's all natural ingredients, sits well at the dinner table, and it will certainly impress your family and guests.
Bulgur: A cereal food made from the cracked parboiled groats of several different wheat species. Also though it originates in Middle Eastern cuisine, it's also very common in Haitian food recipes. It puffs up like rice and is also tender.
Fresh Parsley: There are usually an abundance amount of parsley that's included in authentic tabbouleh. However, for this recipe, a small amount is added because of my little picky eaters. Either way, you'll enjoy the freshness of this fresh herb.
Fresh Mint: We often have an abundance amount of fresh mint in our garden this time of year. Fresh mint can be found at any local grocery stores. The ingredient also provides fresher minty flavor to the salad. If you are not a fan of mint, you can leave this ingredient out.
Tomato: When making this salad, you want to add fresh tomatoes. I recommend scrapping out the seeds to eliminate the risk of having too much water, especially if it sits for a while before serving.
Olive Oil: I have used olive oil as well as grapeseed oil to make this middle eastern vegetarian recipe. The oil is used to "dress" the salad.
Lemon Juice: I find that lemon juice helps to tie everything together. It is a great way to add acidity to help bring out the flavors from the herbs.
Salt and pepper: Lightly season your salad with salt and pepper. Adjust the taste to your preference when mixing and tossing the ingredients together.
Making This Middle Eastern Vegetarian Recipe
Put the bulgur wheat in a saucepan and cover with boiling water. Bring to boil then reduce the heat.
Cook for about 10 minutes.
Drain and rinse the bulgur, and transfer it into a serving bowl.
Allow to cool at room temperature. Then one by one add the remaining ingredients.
Mix well to combine.
Serve as a side or as a main dish.
Tips For Making This Recipe:
To have a rich, green tabbouleh salad, I recommend adding a large quantity of fresh parsley.
If you do not want to cook the bulgur, soak it for a couple hours to soften it up. It will become edible.
This salad do not freeze well. It is best enjoyed at room temperature or refrigerated to be enjoyed the next day.
Other Salads You Might Enjoy:
Marinated Cucumber Tomato Salad
By the way, do you know that it warms our hearts to see the recipes you make from this site?
We'd especially would love to know if you tried this recipe, tag us on Instagram or Facebook so we can see your beautiful dish.
Also, we would appreciate if could give it a star rating below!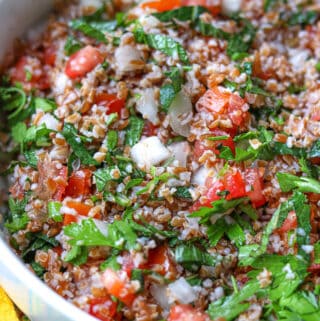 Lebanese Tabbouleh Salad Recipe
This fresh, green, summery salad feature bulgur wheat and fresh herbs as the main ingredients. It serves well as a side or as the main dish. It is incredible easy to make and is one the entire family will love.
Ingredients
¼

Cup

Bulgur Wheat, rinsed

1 ¼

Cup

Water

1 ¼

Cup

Fresh Parsley

Chopped

½

Cup

Fresh Mint

Chopped

1

Small

Onion

Diced; ¼ cup of diced onion will also work.

Juice Of 1 Lemon

2

Tomatoes

Chopped

2

Tbsp.

Olive Oil

½

Tsp.

Black Pepper

Or to taste

½

Tsp.

Kosher Salt

Or to taste
Instructions
Place the bulguar wheat into a saucepan and cover with water. Bring to a quick boil then reduce the heat to medium temperature. Cook uncovered for 10 minutes.

Drain, then strain using a sieve and transfer to a serving bowl. Allow to cool at room temperature.

Add in the parlsey, onion, mint, tomatoes, lemon juice, salt and pepper to the bulgur wheat. Mix well. Taste and adjust seasoning if needed.

Serve as a side or as a main dish and enjoy.
Notes
Recipe Tips
This salad do not freeze well. It is best enjoyed at room temperature or refrigerated to be enjoyed the next day.
***Calories are estimated per serving***
Nutrition
Serving:
6
People
Calories:
152
kcal
Carbohydrates:
20
g
Protein:
3
g
Fat:
7
g
Saturated Fat:
2
g
Polyunsaturated Fat:
1
g
Monounsaturated Fat:
3
g
Cholesterol:
7
mg
Sodium:
113
mg
Potassium:
216
mg
Fiber:
3
g
Sugar:
11
g
Vitamin A:
23
IU
Vitamin C:
79
mg
Calcium:
6
mg
Iron:
6
mg