Oven Baked Eggs are a great way to prepare eggs because they are easy to make and they are tastefully delicious.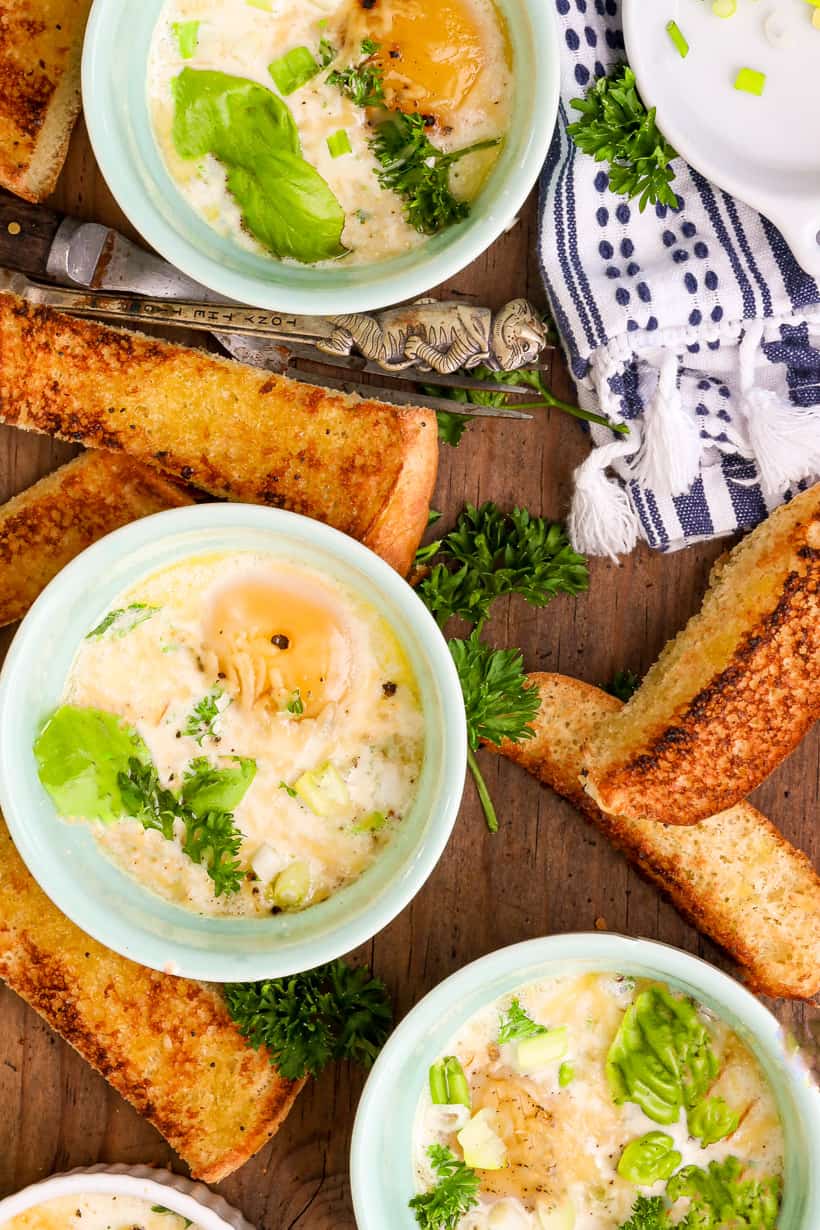 Eggs are an excellent source of protein. They are also a great source of omega-3 fatty acids, which are helpful for brain health.
Oven baked eggs make the cut for a delicious breakfast if you are running out of time or a quick snack when you want to eat healthily.
What are Eggs en Cocotte?
Baked eggs are cooked in the oven with a little butter or oil. Also known as Shirred Eggs or Eggs en Cocotte, the recipe also refers to dishes where eggs are baked in a dish with a flat bottom.
The dish originated in France and has been a popular meal in Europe for a long time. Baked eggs can be prepared in various ways, depending on your preference.
My first interaction with this dish was quite a few years ago during my travels. It was the Italian version of eggs en cocotte nestled in marinara sauce. And yes, it was extremely delicious.
Since the dish derived from France, we tried to keep the recipe as authentic as possible.
In France for instance, the dish would have been made with cream, so we did use heavy cream in our recipe.
The process is fairly simple, the remaining ingredients of your choice are herbs, such as shallots, thyme, rosemary, or parsley. Ham as a form of meat in some instances can be added.
Gruyere cheese is another authentic ingredient in our recipe.
Though flavorful on its own, it will not overpower the other ingredients, which makes it a perfect march in this dish along side herbal flavors.
What Makes This Dish So Versatile?
It is not a complicated dish to make. The flavors infused in this dish is truly based on preference and what is available.
There are so many variations of this dish from plain basic baked eggs to ones baked in marinara sauce.
The eggs can be baked as little or as much as you desire, meaning it can be baked fully or as runny as you would like.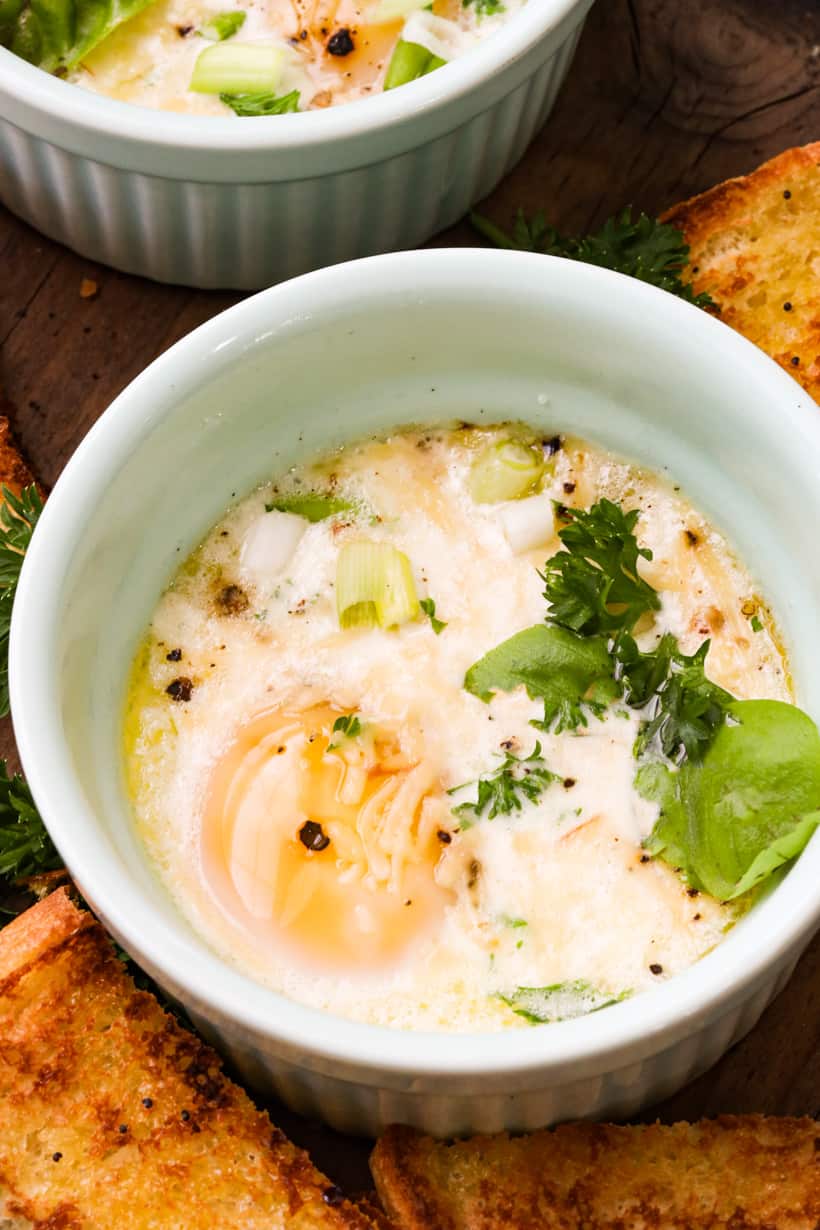 History of Oven Baked Eggs
Eggs are a staple food for many cultures and can be used in a slew of ways. Of course, most people will scramble or fry the eggs.
In Haiti for instance, we are mostly familiar with fry eggs, as the eggs has to be cooked fully for most Haitians to consume it.
But baked eggs are also a very popular form of consumption in other parts of the world especially Europe.
Baked eggs have been around since ancient times, but it was not until the 1800s that they became popular in Western societies.
In France, a chef named Marie-Antoine Carême created recipes for baked eggs published in his book "The Art of French Cookery" in 1815.
These recipes called for egg whites and yolks, separated before being cooked in a bain-marie or hot water bath with salt, pepper, nutmeg, butter, or bacon fat.
In America, Shirred Eggs became popular during the 1920s.
Ingredients for Making Baked Eggs
Olive Oil or Butter
Oil is one of the most important ingredients for making baked eggs. You can use vegetable oil, sesame oil, or peanut oil.
You can also use avocado or grapeseed oils. Of these types, the healthiest options are sunflower oil, olive oil, and peanut oil.
There are two types of olive oil to look out for; regular olive oil and extra virgin olive oil. The extra virgin olive oil has not been processed much, so it is purer and healthier. However, it has a robust flavor that does not make it ideal for eggs.
Therefore, it is advisable to go with the regular olive oil with a neutral flavor.
Butter can also be used and a great enhancer to the flavor. Not as healthy as olive oil, but certainly a great addition.
We strongly recommend that you use pure organic butter, because it is simply made with cream (fattiest part of the milk). We used natural unsalted butter in our recipe.
Eggs
This is the most important ingredient needed for this dish. The size and number of eggs used depends entirely on how many people you are preparing this delicious recipe for.
These eggs are almost always from chickens, but you are welcome to venture to your culinary fantasy.
Salt and Black Pepper
These are both seasonings that add taste and flavor to your baked eggs. It is better to have them ground.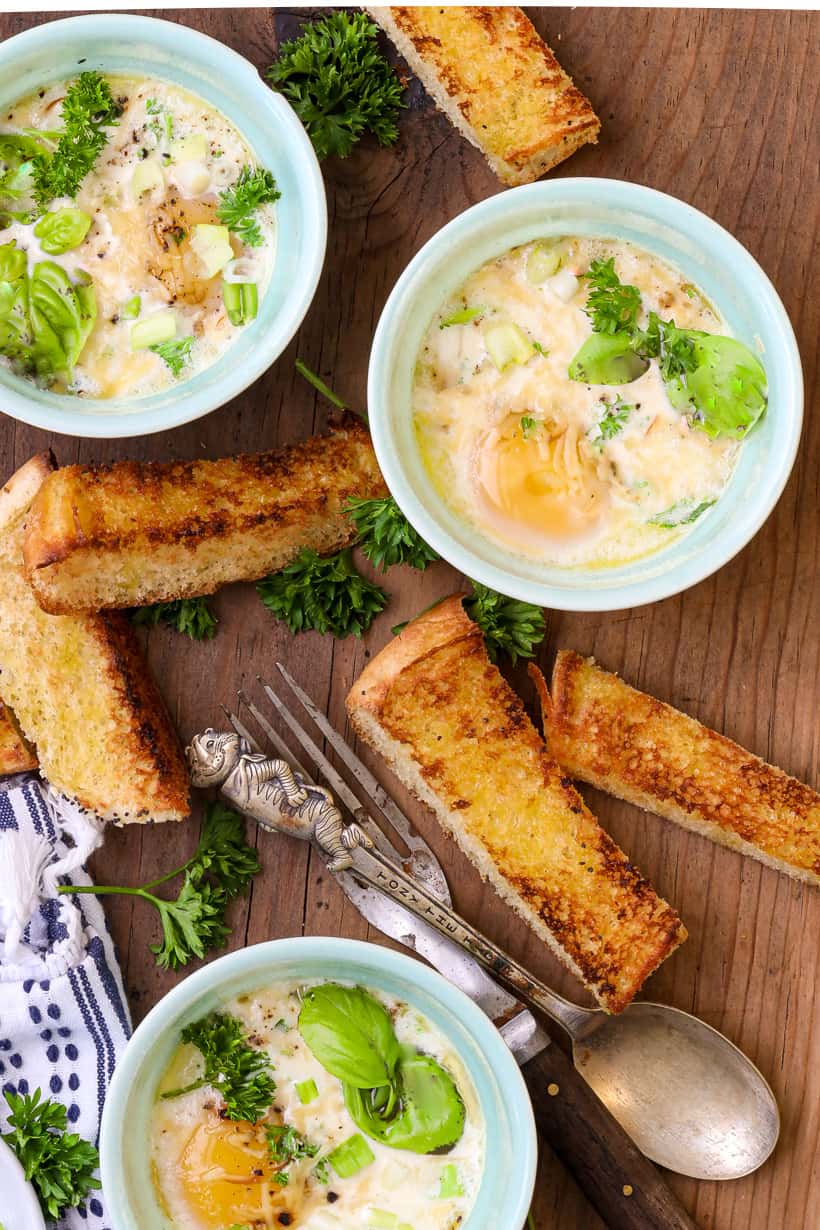 Please use according to your preference. Also, keep in mind that if you use salted butter or any other ingredients that may have an increase sodium content to pay attention to the amount you use.
Tips For Making These Eggs
To make these delicious, mouthwatering oven baked eggs, consider the following tips listed below:
Prevent sticking olive oil or butter. When you are done, you do not want your eggs sticking to the muffin pan or baking dish. This is where your olive oil, butter, or cooking spray becomes useful. Drizzle some oil or butter over the pan to allow the eggs to slide off easily.
Do not let the eggs overcook. All it takes for an egg to go from perfectly cooked to overcooked is a minute. Therefore, you do not want to get carried away and let your eggs get overcooked. An important tip for avoiding this is to remove your eggs from the oven a minute before the timer goes off. You need not worry about the baking process not being complete because the baking dish, which is still hot, continues to cook the eggs while on the cooling rack.
You can use the egg whites for a gluten-free version of baked eggs. After breaking the eggs, separate the yolk from the egg whites and whisk the egg white with salt and pepper before placing it in the oven. This makes for low-carb baked eggs and a gluten-free meal.
Topping Suggestions
Baked eggs are a delicious and healthy breakfast option. They can be eaten on their own or served with toast, avocado, or bacon.
You can also use the following toppings to get an interesting edge to your baked eggs;
Fresh herbs and parmesan cheese
Bacon or Vegan Bacon (for vegetarians)
Cheddar and pico de gallo
What To Serve Baked Eggs with
Sweet potato hash browns
Blueberry or Dairy free scones
Toast bread
Banana oatmeal muffins or Apple Muffins
Storing Baked Eggs
Baked eggs are a great and healthy breakfast option. You can bake them ahead of time and store them in the fridge or freezer to have on hand when you need them.
There are many ways to store baked eggs, but the most popular methods are either in an airtight container or wrapped tightly with aluminum foil.
Can I Reheat Baked Eggs
The answer is, it depends; you can at home, but it depends on much the eggs were previously cooked.
It is not recommended if the eggs were previously fully cooked, and that is because the heat from the oven changes the protein in the egg, which makes it more difficult to cook again.
No, if you are out at a restaurant, you should never accept a reheated baked egg dish from outside your home.
Other ways to make eggs apart from baking
Hard Boiled Eggs
This method cooks eggs in hot water for about 10 to 15 minutes. With hard-boiled eggs, you have a firm white and firm yolk after cooking.
The hard-boiled egg can be served hot or cold after peeling the shell.
Soft Boiled Eggs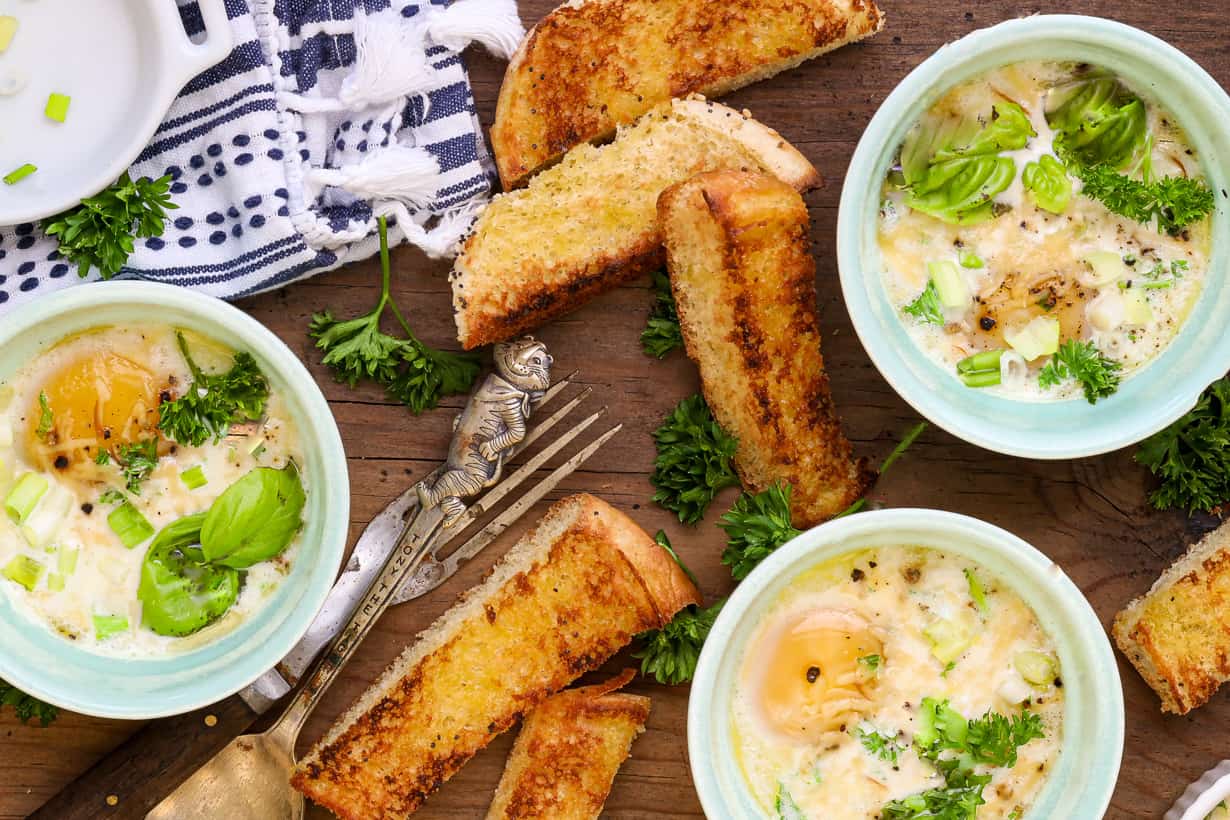 The preparation method for this is similar to that of hard-boiled eggs. The only difference is that you are cooking the eggs for about 5 to 6 minutes instead of 10 to 15 for hard-boiled eggs.
The result is a firm egg white and a runny yolk. In most cases, this egg is served in egg cups and eaten with a teaspoon.
Fried Egg
This is the most popular type of egg preparation. It involves frying an egg in hot oil. There are four types of fried egg preparation methods: hard fried, sunny side up, basted, and over easy fried eggs.
Omelets
This is another popular type of egg preparation, and it involves beating the eggs before pouring them into the pan and letting them set in the pan.
It is during the setting period that you add condiments and toppings.
Other ways of preparing eggs include Scrambled Eggs and Poached Eggs.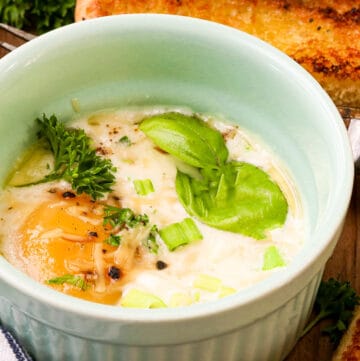 How To Make Oven Baked Eggs
Baked eggs are a great way to prepare eggs because they are easy to make, and they are tastefully delicious. Eggs are an excellent source of protein. 
Print
Pin
Rate
Ingredients
4

eggs

2

tablespoon

fresh parsley;

save some for garnishment

2

shallots;

save some for garnishment

4

tablespoon

heavy cream;

1 tablespoon for each ramekin

1

tablespoon

Gruyere cheese grated

Basil leaves for garnishment;

optional

Salt and Pepper to taste
Instructions
First start by chopping the parsley but leaving a few twigs untouched for garnishment. Also chopped the shallots.

In a 6oz ramekin (a 4oz can also be used) add 1tbsp of the heavy cream in each ramekin and add a little pinch of the gruyere cheese in each.

Break an egg in each ramekin and equally spread the parsley and shallots on top of each egg. Equally add the remaining cheese in each ramekin. Salt and pepper to taste.

Using a baking dish add hot water to about ⅓ of the dish and place the ramekin in the dish. This process is called a bain-marie.

Cover with an oven save top or foil and baked for 10 minutes at 350 degrees Fahrenheit.

Uncover and cook an additional 1-5 minutes depending on desired consistency. Let sit for about 1-2 minutes and serve with toast or your favorite side.

Note that the least amount of cooking time will give you a runnier egg. Cooking for simply 2-3 minutes uncovered will give you cooked whites and a little runny yolk. Certainly, we do not recommend more than 5 minutes.
Notes
**** When printing the recipe, please unselect the camera so that the pictures are NOT printed with the recipe (if preferred).
Disclaimer: This post may contain affiliate links. See our full Privacy Policy. We may receive compensation by clicking on the links and or making a purchase.