This French version of Lasagna with Béchamel or Lasagna Ala Ragout with Béchamel Sauce is from Italy's delicious cuisine to your table. This French version of this Italian dish is abundantly full of flavor marrying two wonderful cuisines into one.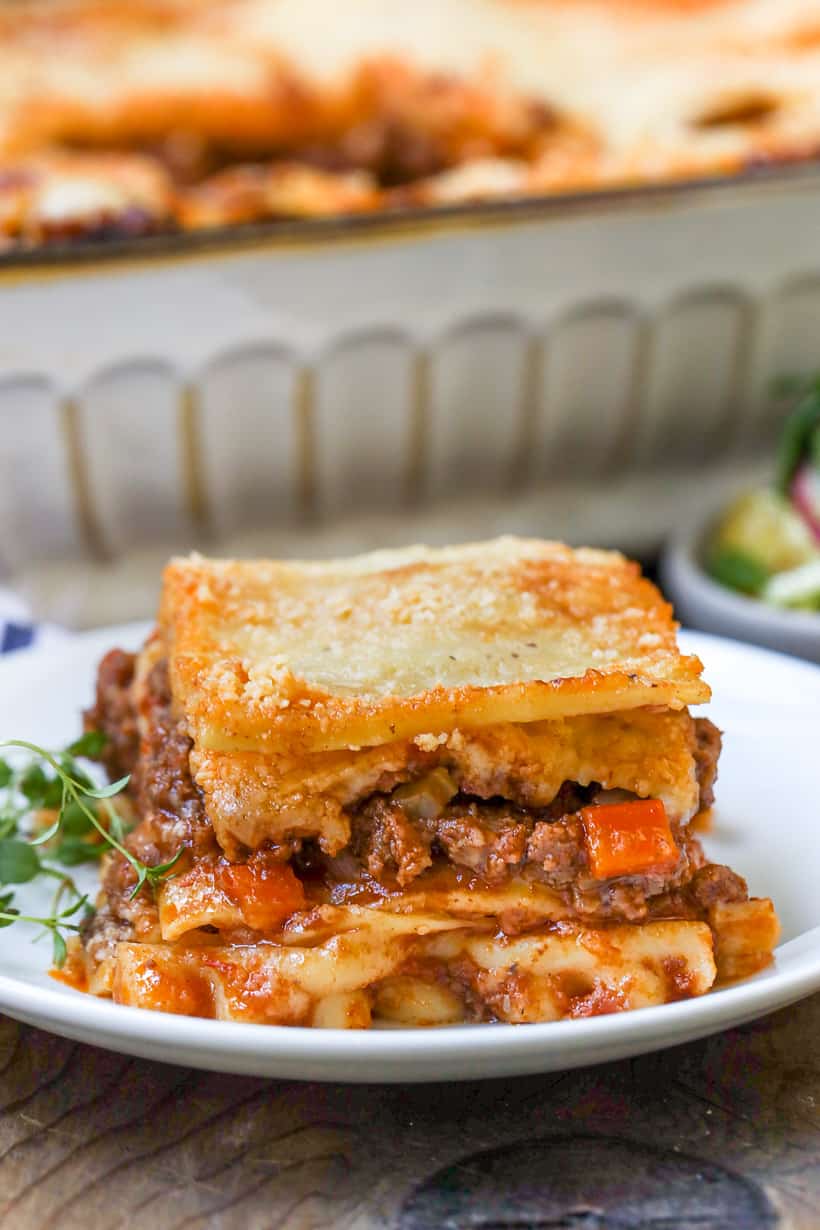 Lasagna is a heavenly cheese-made dish. The dish features noodles layered with meat in a tomato base sauce.
Its other constituents include ricotta, mozzarella, and some healthy sizes of parmesan.
The combination of these constituents leads to a dish that is not only perfect for celebration and formal occasions but is also enjoyed when taken alone.
However, this article is not about the American-Italian lasagna. It is focused on the French version of one of the most popular foods in the world.
French Lasagna with béchamel features some little alterations in comparison to its Italian counterpart.
The French lasagna, also known as Lasagna ala Ragout, uses the same pasta, Italian tomato sauce, saffron threads, meat, and other ingredients that you find in the mainstream lasagna.
One of the major differences is that the French lasagna uses a layer of béchamel. The use of cheese in French lasagna is also a tad different from how it is used in Italian lasagna as you will see later.
Origin of French Lasagna
As surprising as it may sound, the origin of the word lasagna is from Greece. The root word is a Greek work laganon which is the earliest form in which pasta existed.
While the origin of the word that describes this dish comes from Greece, the dish itself is native to ancient Italy.
One of the earliest references of the dish was from the city of Naples, and the dish, lasagna referred to a dish that featured lasagna without tomato sauce.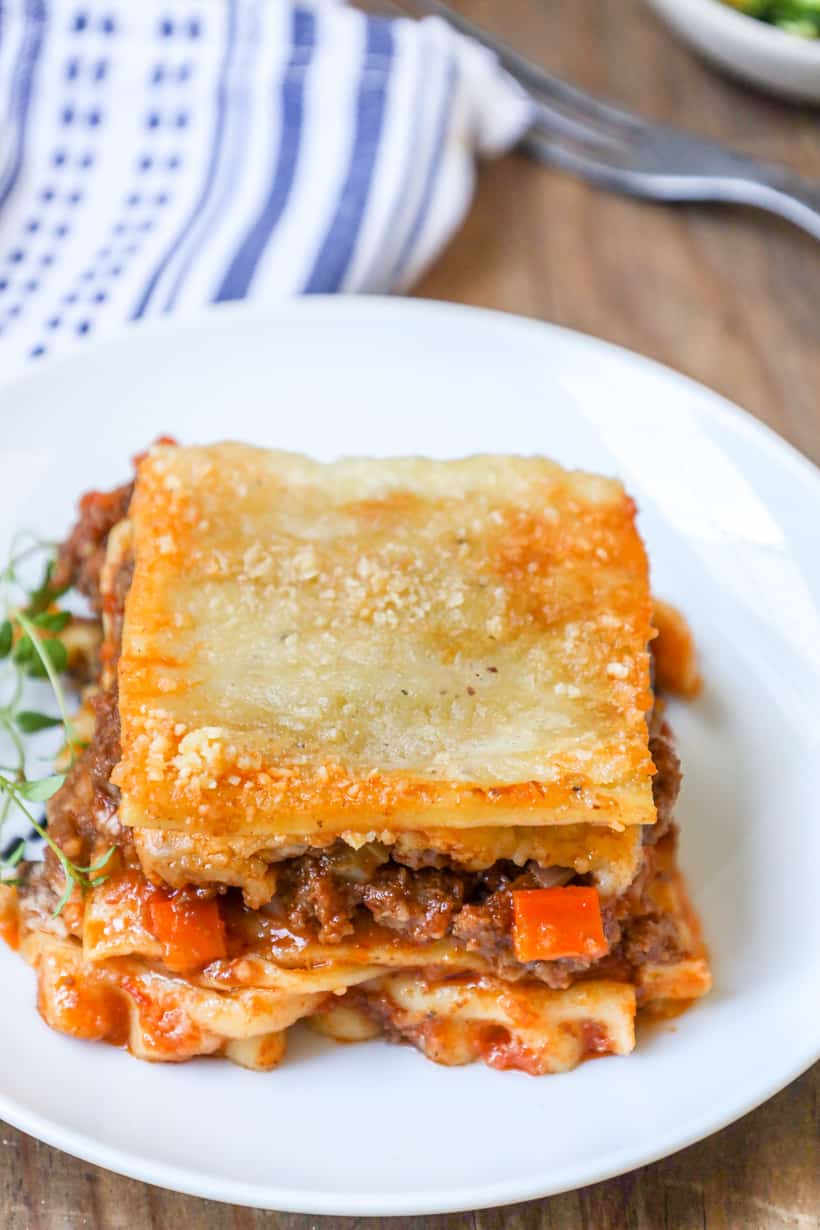 While the exact time for the origination of lasagna is not known, there was a reference to lasagna in a 14th century English cookbook. So this gives an approximate time for the discovery of lasagna.
However, lasagna soon evolved from a simple pasta with tomato sauce to the Italian lasagna from Naples that we all know today.
This dish, referred to as Lasagna di Carnevale, featured local sausages, hard-boiled eggs, fried meatballs, mozzarella, or ricotta. It also featured Neapolitan Ragu.
There were also other variations of the dish around other parts of Italy.
Some of these variations include Lasagna al Forno, which features ingredients such as thick Ragu, wine, onion, béchamel, mozzarella or ricotta, and green sheets of pasta made with spinach.
This variation was from the Italian region of Emilia-Romagna. Other variations include Lasagna al Sangue, which means bloody lasagna, due to the addition of pig blood during the preparation.
Finch Lasagna or Lasagna ala Ragout is another variation. And as the name implies, it originated from France and is popular in the country and other parts of the world.
What makes a lasagna French style is the addition of a layer of béchamel instead of ricotta and the use of Swiss cheese known as Emmental.
Therefore, we will focus on these two ingredients in the next section.
Béchamel Sauce
To start with, it is important to understand that béchamel is one of the five mother sauces in French cuisine.
Mother sauce is one of the crucial foundations in the cuisine and refers to a sauce used to make other sauces.
In its most basic form, béchamel is made from flour and butter, and milk. The mixture of butter and flour is usually cooked together and is referred to as a roux. After the milk is added, a little bit of seasoning is added.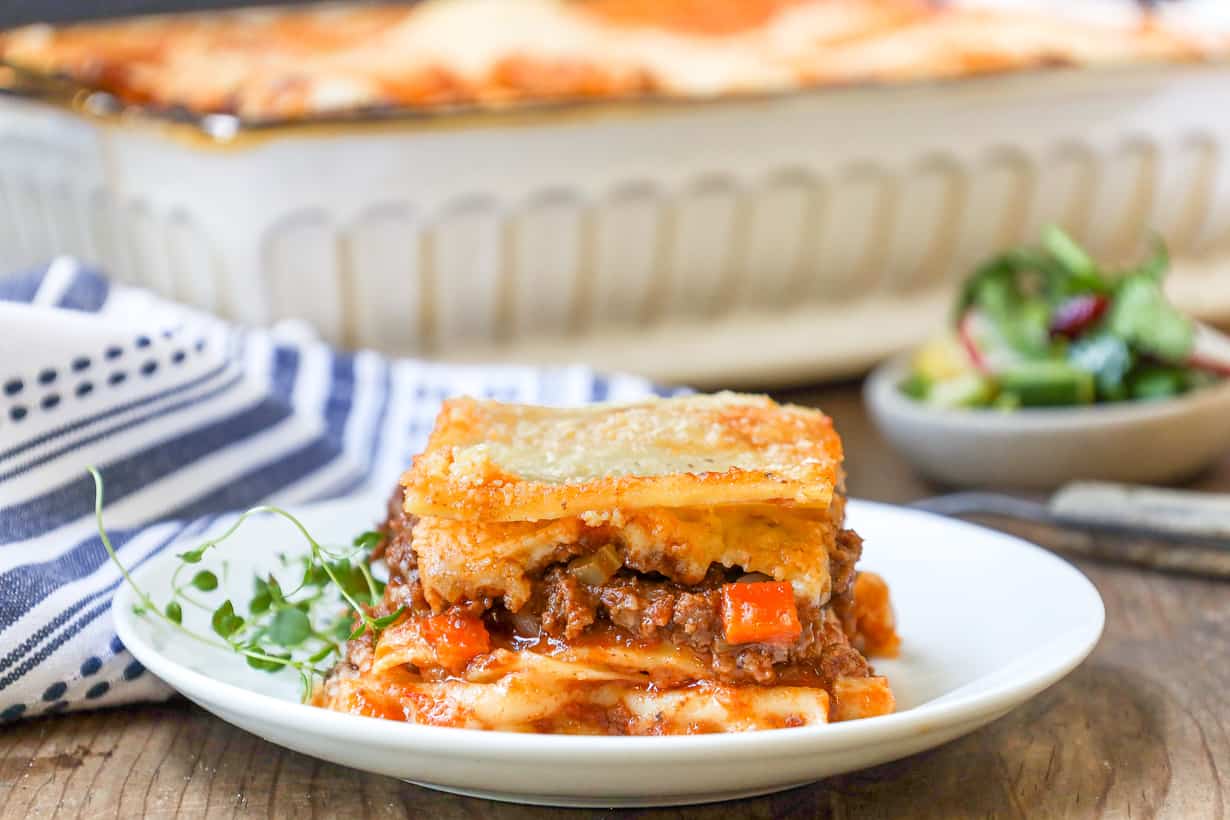 The result is a silky creamy sauce that can be used alone or used to make other sauces, serving as a base in the preparation of these sauces.
One of the advantages of béchamel is the way it clings to food.
Its thickness and ability to cling to food depends heavily on the content of the roux in the béchamel. And this is why many people pay special attention to the making of the roux while preparing the béchamel.
Swiss Cheese (Emmentaler)
Though we did not use swiss Cheese in our recipe, it is a common ingredient in French recipes that distinguishes between the French Lasagna and other variations of lasagna.
As the name suggests, the cheese is from Switzerland. However, it is the most original form of Swiss cheese.
This is because other types of Swiss cheese, such as the American Swiss are made in America.
But Emmental is native to the Emmentaler town in Canton Bern in the Emme Valley of Switzerland.
This type of cheese has a pale-yellow color as well as holes or eyes around it. The cheese is characterized by a sweet aroma, buttery, and nutty flavor as well as a slightly acidic and fruity tone.
This cheese has its style of production, and this contributes to the bacterial culture that gives it these features.
Parmigiano Reggiano Cheese
Parmegiano Reggiano also known as Parmesan Cheese is considered one of the top cheeses, therefore the perfect addiction to our recipe.
We highly recommend using an authentic block parmesan cheese rather than the grated U.S version in order to truly enjoy the authenticity of flavor. But you are welcome to use what is readily available in your area.
Parmigiano Reggiano carried the name of the provinces from which it was originally produced, which are Provinces of Parma, Reggio Emilia, Modena, Bologna, and Mantua.
Though we are making the French version of this recipe, we are still keeping to its Italian roots.
What makes this cheese so special? Well in order for a cheese to be labeled Parmesan within the EU, it needs to be produced from fresh grass grazing cows within the traditional location of its origin.
In the U.S however, this requirement does not apply. The cheese can be labeled parmesan as long as it has the physical and chemical properties.
Vegetable Cutting
Since this is a French recipe of course the cutting has to be on par to the French culinary process.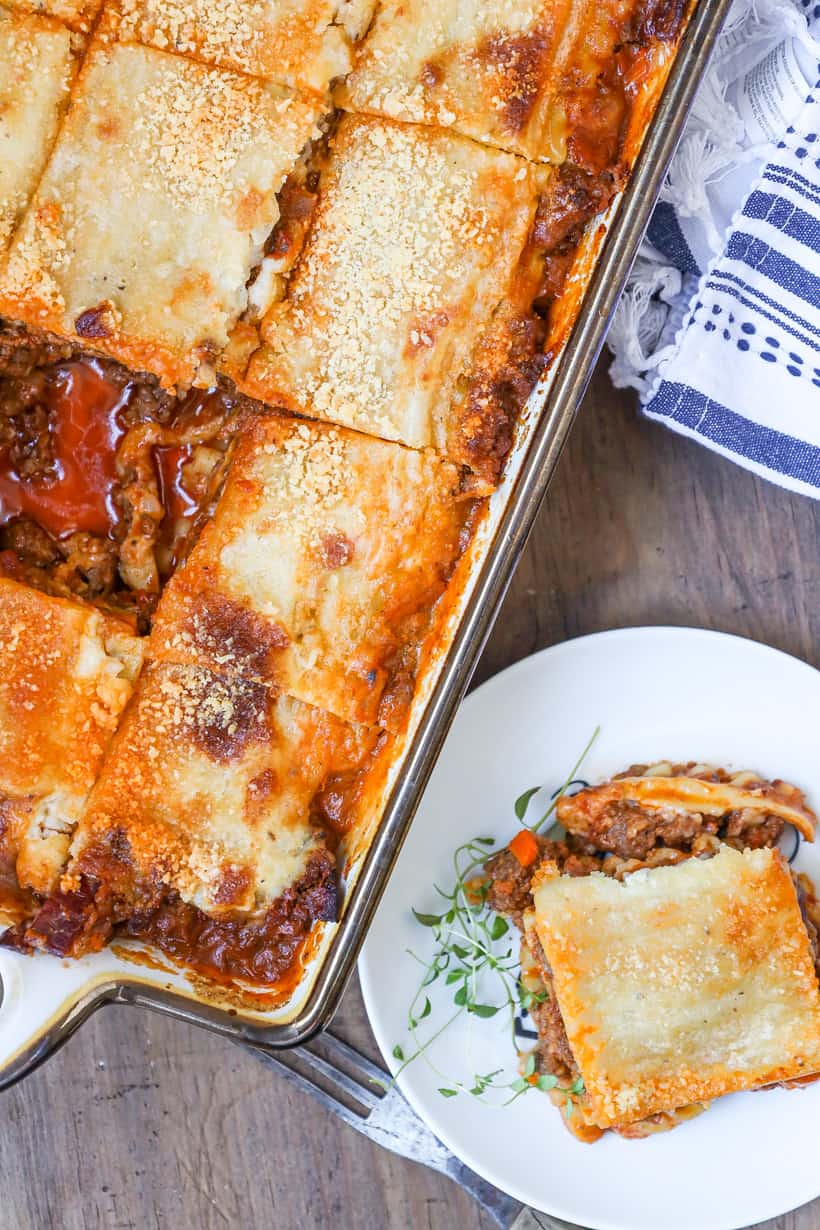 You will need to ciseler the onions while cutting the celery and carrots brunoised style. Please see our YouTube video if you want to have fun learning the different cuts.
Truthfully, all you are doing is mincing the onions and cutting the celery and carrots into small pieces.
It does not affect the flavor in any shape or form. It does however make your dish look fairly well prepared and each cut to be synchronically similar.
How To Store French Lasagna
Lasagna is one of the food that you might cook more than you can eat. And why not? Even if you don't finish it at once, you could store the leftover for some other time.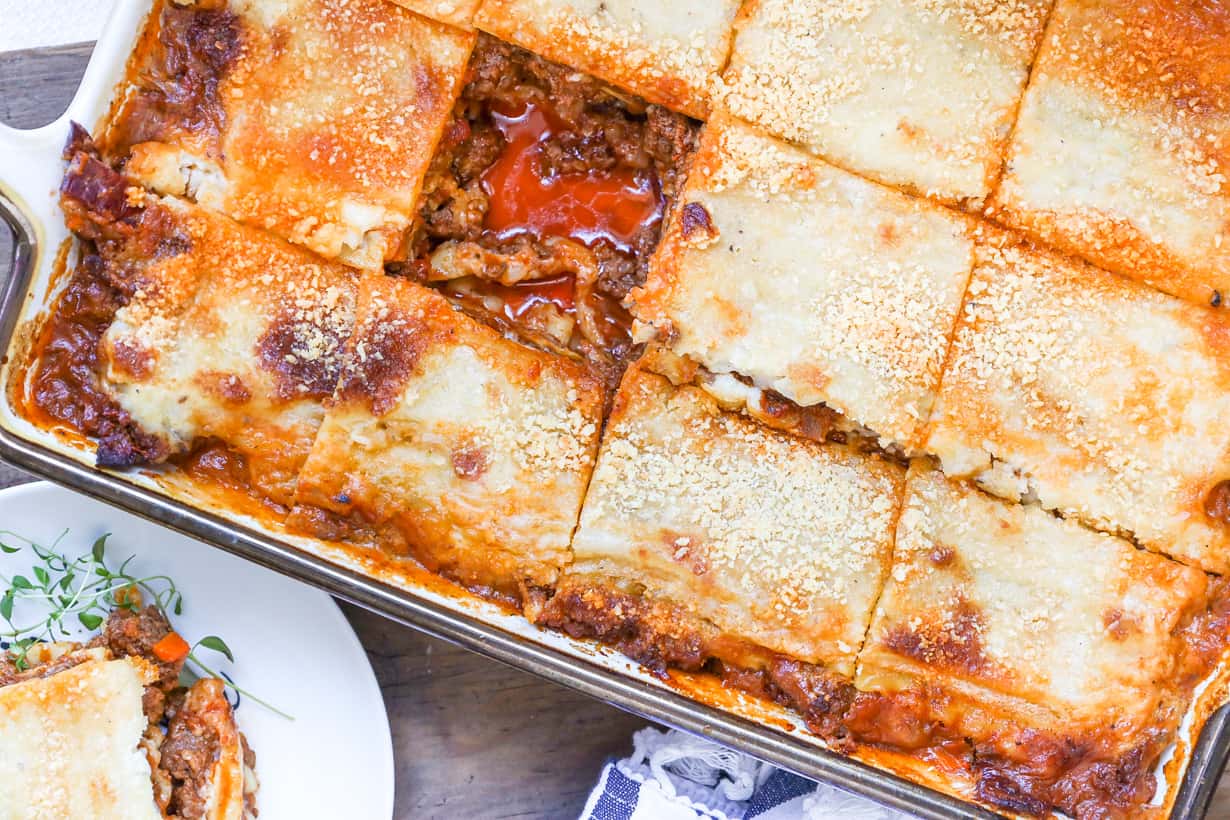 Before touching on the different ways of storing the food, you need to understand that the lasagna can sit out for about 2 hours at room temperature. After more than 2 hours, the lasagna tends to get spoilt.
After 2 hours, your best course of action is to refrigerate the lasagna ala ragout. To do this, you need to put the lasagna in an airtight container and place it in the refrigerator.
By doing this, you can keep the lasagna fresh and edible for the next three or four days.
However, you cannot freeze a cooked lasagna. This is because it doesn't freeze well. You can only freeze an uncooked lasagna before baking.
But once, it is baked, you cannot freeze it. Your best bet is to refrigerate and this only lasts for about three to four days.
How To Pair French Lasagna
If you are looking to enjoy your French Lasagna with different side dishes, the following are some side dishes that work perfectly with our French Lasagna;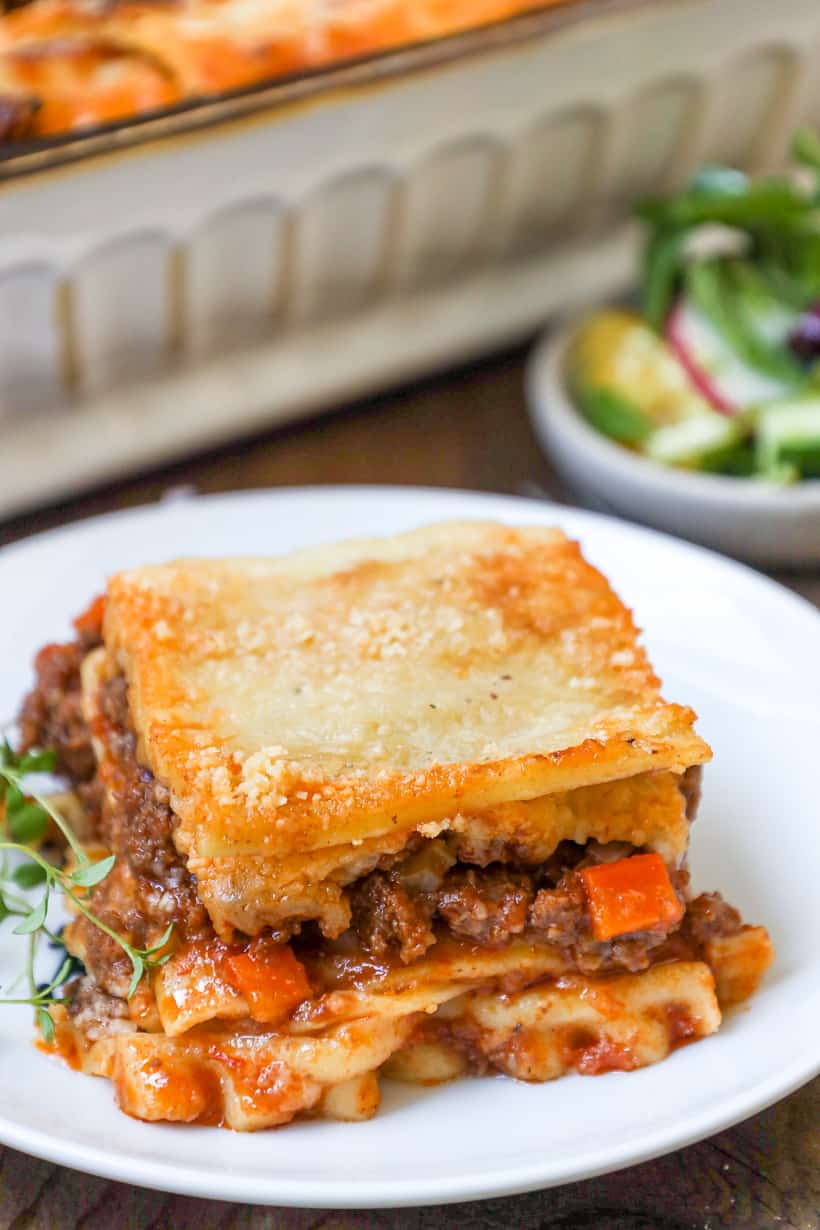 Lemony Green Beans with Almond Breadcrumbs
It warms our hearts to see the recipes you make from this site, and we'd especially would love to know if you tried this recipe.
Tag us on Instagram or Facebook so we can see your beautiful dish.
Also, we would appreciate if could give it a star rating below!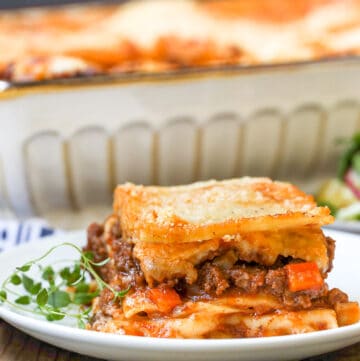 French Lasagna
This French version of Lasagna with Béchamel or Lasagna Ala Ragout with Béchamel Sauce is from Italy's delicious cuisine to your table.
Equipment
Stock pot

2 sauce pans

1 11 X 7 baking dish

1 Oven

1 stovetop
Ingredients
1

Lasagna package

Whichever your favorite brand is. A total of 9 pieces
Ragout
1

small onion

1

Carrot

1

Celery stalk

½

lbs

Bacon

3

tablespoon

Butter

2

lbs

Ground beef

3

oz

Red wine

2 tbsp

Tomato paste

2

cups

Puree Tomatoes

salt and pepper to taste
Bechamel Sauce
5

tablespoon

butter

⅔

cups

Flour

3

cups

milk

½

small onion

¼

teaspoon

nutmeg

8

oz

grated Parmesan

preferably block cheese that you grate yourself

salt and pepper to taste
Instructions
Ragout
Ciseler the onion and cut the celery and carrot brunoise style. In a stock pot, saute the onions, carrots, and celery in olive oil. Add beef bacon and continue to cook. Add butter and ground beef.

When the beef loses its rawness, add red wine and reduce the heat to medium low.

Add puree tomato, add salt and pepper to taste. Stir well and let simmer for 1 hour on low heat. After cooking it for an hour let it rest for a few minutes.
Bechamel
Cesiler the onion. Begin by infusing the milk with the onion in the saucepan and set aside (DO NOT boil the milk).

To make the white roux, melt the butter and slowly add the flour (Do Not brown).
Lasagna
In a baking dish, spread evenly the bechamel sauce than add the lasagna pasta. Add the ragout (still hot) than spread with parmesan cheese.

Repeat the process until filling the baking dish.
Notes
**** When printing the recipe, please unselect the camera so that the pictures are NOT printed with the recipe (if preferred).
Calories are estimated per serving. 
This post may contain affiliate links, please read our full disclosure here!
Nutrition
Serving:
8
Servings
Calories:
860
kcal
Carbohydrates:
34
g
Protein:
48
g
Fat:
59
g
Saturated Fat:
30
g
Polyunsaturated Fat:
3
g
Monounsaturated Fat:
11
g
Cholesterol:
180
mg
Sodium:
933
mg
Potassium:
387
mg
Fiber:
3
g
Sugar:
17
g
Vitamin A:
195
IU
Vitamin C:
17
mg
Calcium:
17
mg
Iron:
28
mg