Instant Pot Black Eye Peas – It's black-eyed pea season, and we are not talking about the singing group either!
This instant pot black eye peas stew recipe is a hearty, vegan, delicious, fuss-free vegetarian stew that's ready to be served on New Year's Day for your loved ones to enjoy.
Black eye peas are very common in Haitian Food cuisine. In fact, we call them Pigeon peas. This recipe is not only succulent, it also has a slight hint of heat that marries the flavors well at the end.
In the United States, black-eyed peas are best known for good luck and prosperity. However, in Haiti, it is often served throughout the year.
About Black Eye Peas
Despite its name, black eye peas are not actual peas. They are beans and are also legumes.
Aside from nourishing our bodies and being filled with nutrients, black eyed peas also serve some benefits to the soil.
They help with nitrogen, which helps to improve the quality of the dirt and add nutrient back to the soil as the air hits it.
Black eyed peas were brought to the West Indies by enslaved West Africans, hence the reason why in is part of Haitian cuisine.
The vegetable was originally used as food for cows and other livestock, but today, they have made a turn to becoming one of our loved vegetables.
In the United States, black eyed peas are often served with collard greens; especially in the South. The vegetables are considered good luck. Meaning, the peas represents coins and the greens represent paper money.
Instant Pot Black Eyed Peas Ingredients
4 tbsp. Olive Oil
1 whole large onion, diced
4 cloves garlic, minced
1 green onion, chopped
2 Large Carrots, chopped
2 large tomato, seeds removed and chopped
2 stalks celery, diced
2 tbsp. Rice vinegar
2 tbsp. tomato paste
4 c. soaked black-eyed peas (1 packaged)
5 c. Water
1 Tsp. Salt and 1 Tsp. pepper, to taste
1 Tsp. Allspice
1 Tsp. Cayenne pepper, to taste
Cooked White rice or brown rice, for serving
How Do You Cook Dried Black Eyed Peas?
We do not believe in the superstition relating to black eye peas and the New Years, but because we enjoy delicious foods as this, it's only right this black eyed peas instant pot recipe is shared with you.
The exact measurements are listed below in the recipe card. In the meantime, here is a quick video guide and step by step photo guide to help you make this recipe perfectly each time.
The flavor is amazing. And best of all, you can easily turn this recipe into a Hoppin' John recipe by serving it with white rice.
First, start with gathering the ingredients. Dice, chopped, and slice the ingredients.
In the instant pot, sauté the onions, celery, herbs, and carrots.
Add the spices and tomato paste
Add peas to vegetables and stir.
Add Water and stir. Cover, seal and cook for 30 minutes.
Serve warm and enjoy with cornbread or rice.
What's Hoppin' John?
Hoppin' John is a basically black eye pea stew served with white rice. This is a classic Southern dish to celebrate New Year's.
As mentioned above, the black-eyed peas are for good fortune in the coming year.
No one knows where the name of this famous dish came from.
Some parts of the world, like Haiti, do not even call it Hoppin' John; they are simply black-eyed peas and rice.
Just like many delicious dishes, there are so many different versions to this dish.
Do Black Eyed Peas Need To Be Soaked Before Cooking?
Because we are making this pigeon peas recipe stew in the instant pot, it is not necessary to soak the beans first, as the pressure from the instant pot will cook the beans in a little over 30 minutes.
If you choose to soak the beans that's perfectly fine. Although it doesn't hurt, but soaking the beans will help loosen the beans a little, which in turn will make it a little easier to cook if preparing this stew over the stove.
To soak the beans, remove the beans from the package and rinse it under cold water.
Place the beans in a large bowl and add enough water to cover the beans by at least 4 inches. Allow them to soak overnight.
When ready to cook, sauté the ingredients, then add the beans, along with the water. Pressure cook on high for 30 minutes.
Frequently Asked Questions (FAQs)
Are dried black eyed peas good for you?
Black eyed peas contain a high volume of fiber and protein.
Can you soak Black Eyed Peas too long?
No. You can soak black eyed peas for up to 4 days. Remember to change the water and rinsing out the peas before adding in fresh water. This will also alleviate gassiness that beans sometimes cause.
How long does it take to cook dried black eyed peas?
You can cook black eyed peas in the instant pot for 30 minutes if presoaked, or 45 minutes without soaking first. Or, cook them over the stove for 1 to 1 and a half hours.
Haitian Food Recipes To Pair With This Dish
This black eye peas instant pot dish recipe is tasty no matter what, but I like it best with some of these flavorful side dishes.
Enjoy the stew on its own, or pair it with cornbread, air fryer milk buns, or serve with a side of this Instant Pot Collard Greens.
Did you make this instant pot black eye peas recipe? Tag me on Instagram or Facebook and please give it a star rating below!
Please follow us on YouTube to see all of our latest videos!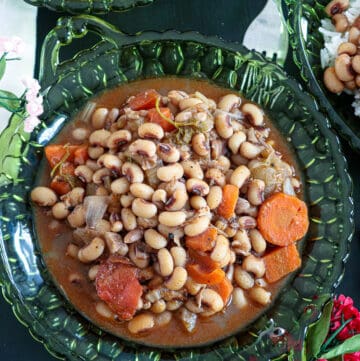 Pressure Cooker Black Eye Peas Recipe
This year, this is the black eye peas recipe you need to serve your family. Filled with bold flavor and a little kick from the pepper, but serves perfectly well over white rice to create a Hoppin' John dish!
Ingredients
4

Tbsp.

Olive Oil

1

Whole large onion

diced

4

Cloves

Garlic

minced

1

Green onion

chopped

2

Tbsp.

Fresh Parsley

2

Large Carrots

chopped

2

Large tomato

seeds removed and chopped

2

Tbsp.

Tomato paste

2

Stalks celery

diced

2

Tbsp.

Rice vinegar

4

cups

Black Eye Peas

1 packaged; Optional: soaked

1

Tsp.

Kosher Salt

or to taste

1

Tsp.

Black Pepper

or to taste

1

Tsp.

Allspice

1

Tsp.

Cayenne pepper

Optional or to taste

5

cups

Water

Cooked White rice or brown rice

for serving (Hoppin' John)
Instructions
Black Eye Peas Instant Pot
Stovetop Black Eye Peas (One Pot Dish) Version
Soak the beans overnight.

Chop, dice, or cut the celery, onions, carrots, green onions, and garlic. Set aside.

In a large pan over medium heat, add the oil. When the oil is hot, add the vegetables and herbs. Toss to combine.

Drain the beans, then add the beans to the vegetables. Mix well.

Next, cover the beans with 4 inches of water. Simmer, covered half-way, for about 1 hour.

Checking the beans after 45 minutes to see if they are tender and add more water as necessary to keep them covered. Once the beans are fully tender, add in the tomato paste, spices – season to taste, and add in the rice vinegar. Mix well. Let simmper for additional 10 minutes, covered.

Then serve warm as a side or serve with white rice to create a Hoppin' John dish.
Video
Notes
*** This post contain affiliate links, which means we will receive compensation if clicked on it or make a purchase.  Please read our full disclosure here!
*** Depending on your Instant Pot, water may drip from the pot down the side. That's perfectly fine if that happens. The beans will continue to cook. Clean the water as it drips so it does not sit underneath the instant pot while the beans are cooking.
*** Experiment with the Haitian Epis Seasoning to further enhance the flavor of this dish. 
*** The beans will last up to 4 days in an air tight container in the refrigerator. 
*** Calories are estimated per serving.
Nutrition
Serving:
8
People
Calories:
265
kcal
Carbohydrates:
33
g
Protein:
8
g
Fat:
9
g
Saturated Fat:
3
g
Polyunsaturated Fat:
1
g
Monounsaturated Fat:
5
g
Trans Fat:
9
g
Cholesterol:
10
mg
Sodium:
498
mg
Potassium:
1077
mg
Fiber:
6
g
Sugar:
5
g
Vitamin A:
18
IU
Vitamin C:
14
mg
Calcium:
9
mg
Iron:
6
mg