Pikliz – Spicy Coleslaw Recipe
Haitian Pikliz is mildly acidic and full of flavor. It is also knowns as Spicy Coleslaw or Pickled Coleslaw. This slaw is a Haitian's favorite condiment when it comes to fried food. It is also served with other dishes such as red beans and rice, fish, poultry, beef, and pork. This pikliz recipe is used to enhance the flavor of any dish – guilt free!
(This post was first published on July 5, 2018. The content and pictures have been updated)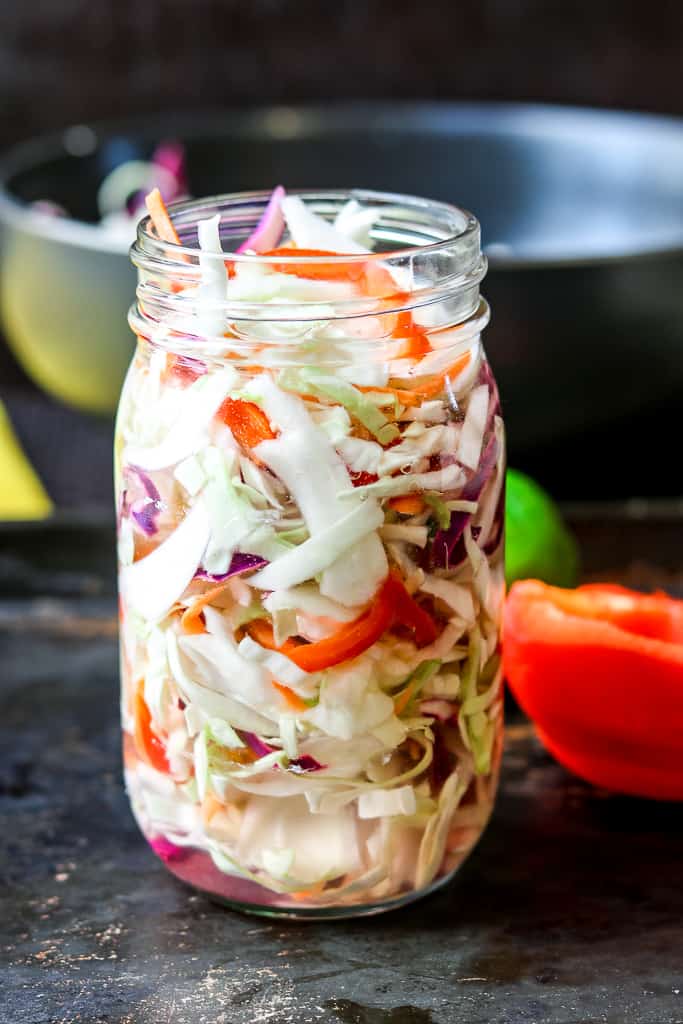 Savory Thoughts: Always believe something wonderful is about to happen. 
Believe it or not, I did not grow up eating pikliz. I always thought it was too spicy. However, as an adult, I can't get enough of it. Especially when eating it with fried plantains.
There are so many Pikliz recipes out there. But by far this is my favorite. It is simple. Doesn't require a lot of work and can be done in a matter of 10 minutes or less.
The process To Make Haitian Pikliz Recipe:
You'll need the base ingredients-vinegar, cabbage, carrots, and peppers. Or you can use the coleslaw mix as I have done. The already made mix cut the majority of the work for you.
Gather all the ingredients as described on the top picture.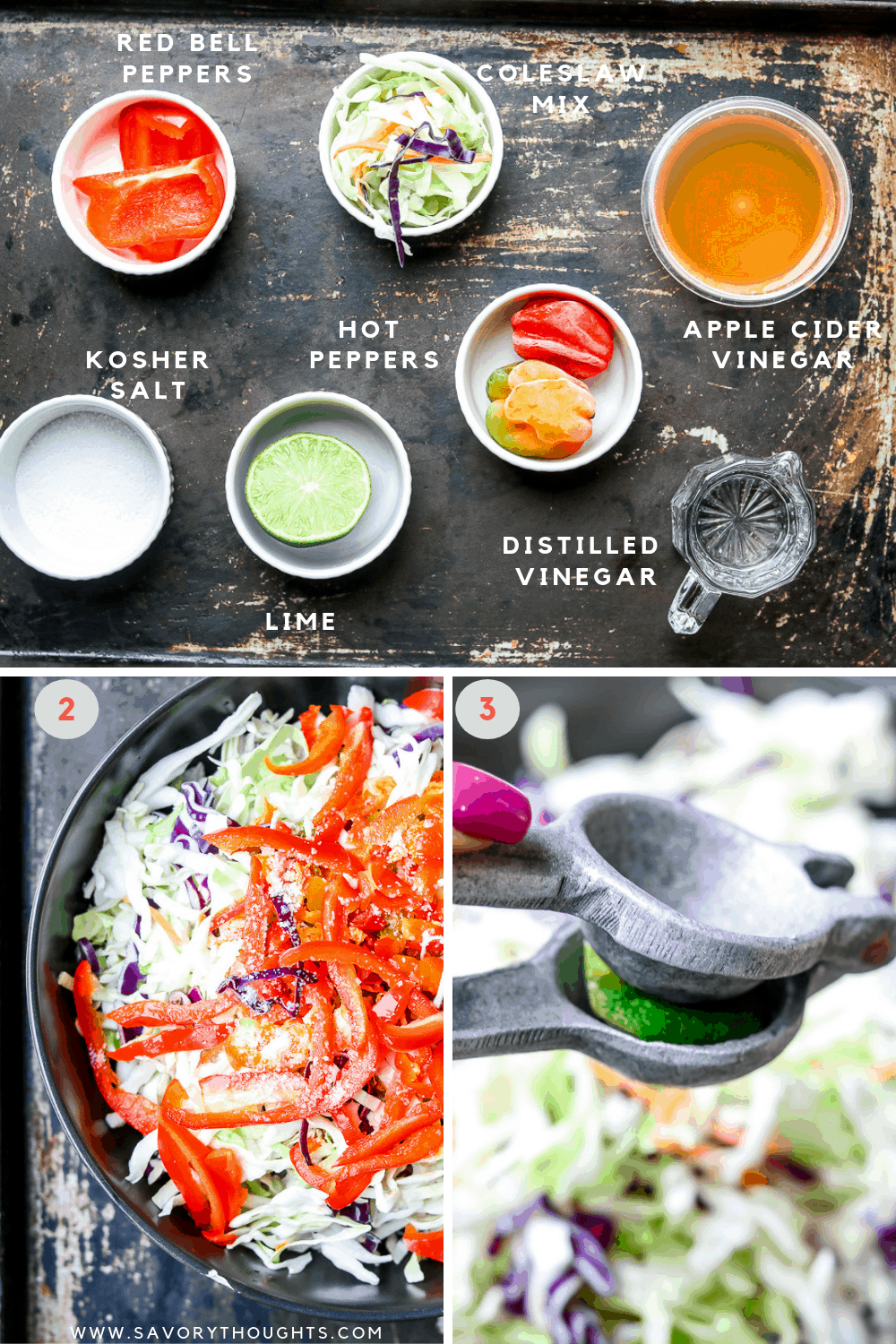 Add all of the ingredients in a large bowl. Drizzle the lime juice over the coleslaw mix. Toss to mix well. Transfer to an airtight container or mason jar. Refrigerate for up to 2 hours before serving. Enjoy!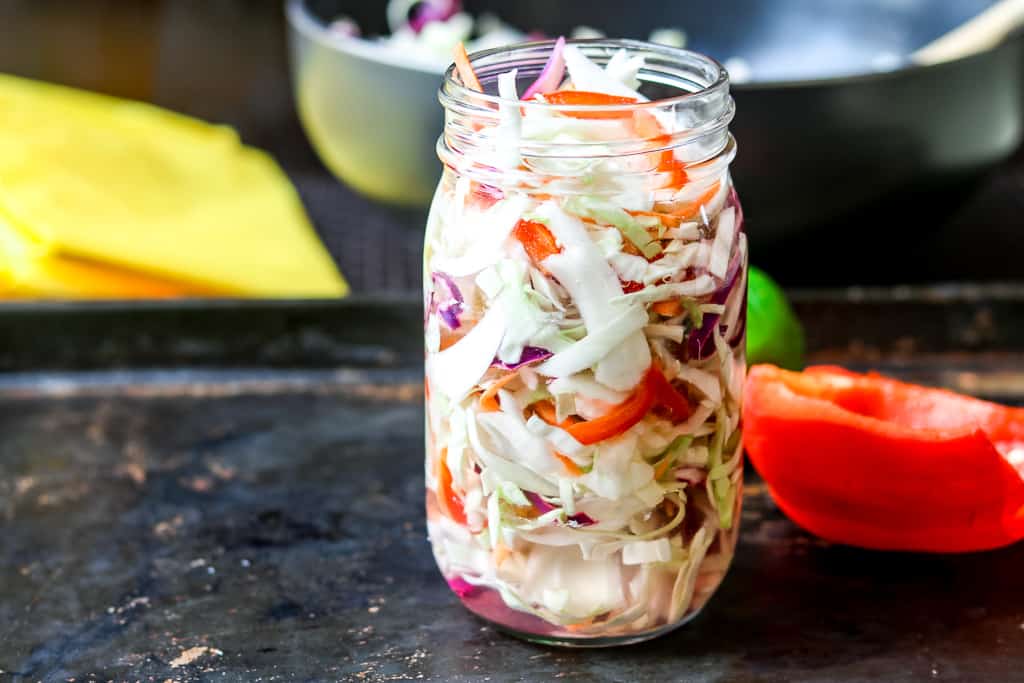 Other Ingredients To Add In Pikliz Haitian Recipe?
You can add onions, bouillon cubes, jalapeno peppers, scotch bonnet peppers, and or radishes.
Did you make this Pikliz recipe? Tag me on Instagram or Facebook and please give it a star rating below!
SAVE THIS HAITIAN PIKLIZ RECIPE TO YOUR PINTEREST BOARDS!
ALSO, I AM ALWAYS PINNING TASTY RECIPES, LET'S CONNECT ON PINTEREST!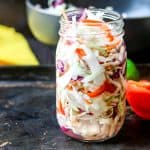 Pikliz - Spicy Coleslaw Recipe
A Haitian's favorite condiment when it comes to fried food. Aside from fried food, Pikliz - Spicy Coleslaw is served with other dishes such as red beans and rice, fish, and pork.
Ingredients
1

bag

tri-color coleslaw mix

1 lb.

4

Jamaican Hot peppers

or scotch bonnet peppers

2

tbsp.

fresh lime juice

1

tsp.

salt

½

cup

apple cider vinegar

½

cup

distilled white vinegar

1

red

bell pepper
Instructions
Place all of the ingredients in a large bowl. Mix well with a fork.

Place in an airtight container and refrigerate for up to two hours before serving.
Recipe Notes
For Haitian Coleslaw Recipe:
After a few days, the cabbage and carrots will soften slightly but retain their crunch which will add texture to any meal.
This bright pikliz is the ideal for any time of the year and is perfect for backyard parties, and beach parties, and family functions. It also pairs well with kebabs and salmon cakes.  
Pikliz usually last up to 6 months in the refrigerator in an airtight container. Just add vinegar as the liquid lowers.
Using a mason jar is also great for storing pikliz as well.
Nutrition Facts
Pikliz - Spicy Coleslaw Recipe
Amount Per Serving (16 oz. Jar)
Calories 215
% Daily Value*
Sodium 2999mg130%
Potassium 1230mg35%
Carbohydrates 46g15%
Protein 7g14%
Vitamin A 7950IU159%
Vitamin C 503.3mg610%
Calcium 230mg23%
Iron 2.5mg14%
* Percent Daily Values are based on a 2000 calorie diet.