Simple, quick, healthy and delicious, this Instant Pot Carrots recipe couldn't be more convenient for adding more nutrients to your meals.
It's true that some of the best recipes are also some of the most simple, and this is one recipe that you'll come back to time and time again. With minimal prep and a lightning fast cooking time, you'll have a tasty veggie side on the table in minutes.
Carrots
This orange root vegetable is not only an affordable and easily accessible food but is also full of health benefits.
It is rich with vitamins, minerals and antioxidants and is also a great source of fiber. Not only that, but its crunchy texture and deliciously sweet taste makes it a staple ingredient all over the world!
You can use either baby carrots or normal carrots for this recipe, but if using the regular kind, make sure to chop them into smaller even-sized pieces, so they cook in the recommended time.
Thicker carrots tend to work best, since the ones that are too thin may start to fall apart when you go to stir them.
Seasoning
Carrots have a naturally sweet taste, which is best complemented by simple seasonings and fresh herbs. With that being said, there are a number of different flavor combinations you can add to your Instant Pot Carrots to switch things up.
You can try minced garlic and lemon juice, butter and fresh parsley, or even bring out their sweetness even more with a brown sugar glaze.
If you would like to try it out, you can head over to my recipe for glazed carrots.
Cooking Carrots in Instant Pot!
Using this method steams the carrots, which is a great way to bring out their natural flavor and achieve an even texture that's pleasant to eat.
While you do need to wait for an Instant Pot to build up pressure, it also cooks the carrots incredibly quickly, taking just 2 minutes for them to be done.
On top of that, Instant Pots require minimal clean up and use less water than traditional cooking methods. That's a win-win in my book!
What To Serve With Instant Pot Carrots
Carrots are such a versatile vegetable side dish that they can be served with almost anything! Classically they are a great accompaniment to any kind of meat dish like roast chicken, lamb chops or a beef stew.
However, feel free to add them to any meal that you feel needs an extra boost of veggies – these are so quick and easy to make that they are a great last minute addition.
How To Store And Reheat Instant Pot Carrots
Once cooled, you can store your Instant Pot Carrots in an airtight container in the refrigerator for up to 4 days.
To reheat them, you can simply heat up a skillet pan with a bit of oil and fry them off for a minute or so.
Alternatively, you can pop them in the microwave in 1-minute bursts, checking them and stirring the carrots in between until they reach the desired temperature.
Haitian Food Pair Suggestions
As versatile as these carrots are, consider pairing them with one of our favorite Haitian Food Recipes listed below.
Frequently Asked Questions (FAQ):
How to cook carrots in instant pot?
Place all of the ingredients including the carrots in the instant pot. Turn the knob to seal, pressure cook on high for 10 minutes.
How long to cook potatoes and carrots in instant pot?
If you want to jazz up your carrots, consider adding baby potatoes or russet potatoes to the carrots. Remember to cut the potatoes in even small pieces so that they are cooked properly with the carrots. Cook on high pressure for 15 minutes.
How long to cook broccoli and carrots in instant pot?
Adding broccoli will further enhance this side dish. Cook both the broccoli and carrots in the instant pot for 10 minutes.
We would love to know if you tried this recipe, tag us on Instagram or Facebook so we can see your beautiful dish.
Please follow us on YouTube to see all of our latest videos!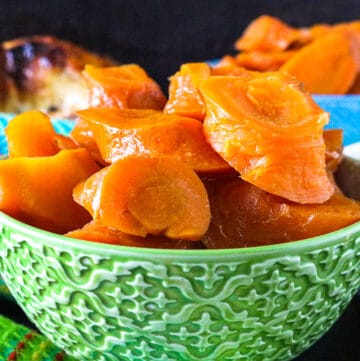 How To Cook Carrots In Instant Pot
Simple, quick, healthy and delicious, this Instant Pot Carrots recipe couldn't be more convenient for adding more nutrients to your meals.
Ingredients
8

Large carrots

peeled – optional; slice diagonally

1

Cup

Brown sugar

tightly packed

2

tablespoon

Butter

unsalted

1

teaspoon

Vanilla extract

1

Cup

Orange juice

1

teaspoon

Kosher salt

or to taste

½

teaspoon

Ground cinnamon
Instructions
Notes
If cooking the carrots with the skin on, be sure to properly wash and scrub the carrots before cooking.
When printing the recipe, please unselect the camera icon so that the pictures are NOT printed with the recipe (if preferred).
Calories are estimated per serving. 
Nutrition
Serving:
6
People
Calories:
123
kcal
Carbohydrates:
15
g
Protein:
2
g
Saturated Fat:
2
g
Monounsaturated Fat:
1
g
Cholesterol:
10
mg
Sodium:
360
mg
Potassium:
805
mg
Fiber:
5
g
Sugar:
14
g
Vitamin A:
7
IU
Vitamin C:
21
mg
Calcium:
5
mg
Iron:
1
mg