From roasting to baking, deep fried or popping them in the air fryer, this air fried Porgy fish is a delicious fish recipe that takes on the beautiful color and texture, and it is loaded with aromatic ingredients.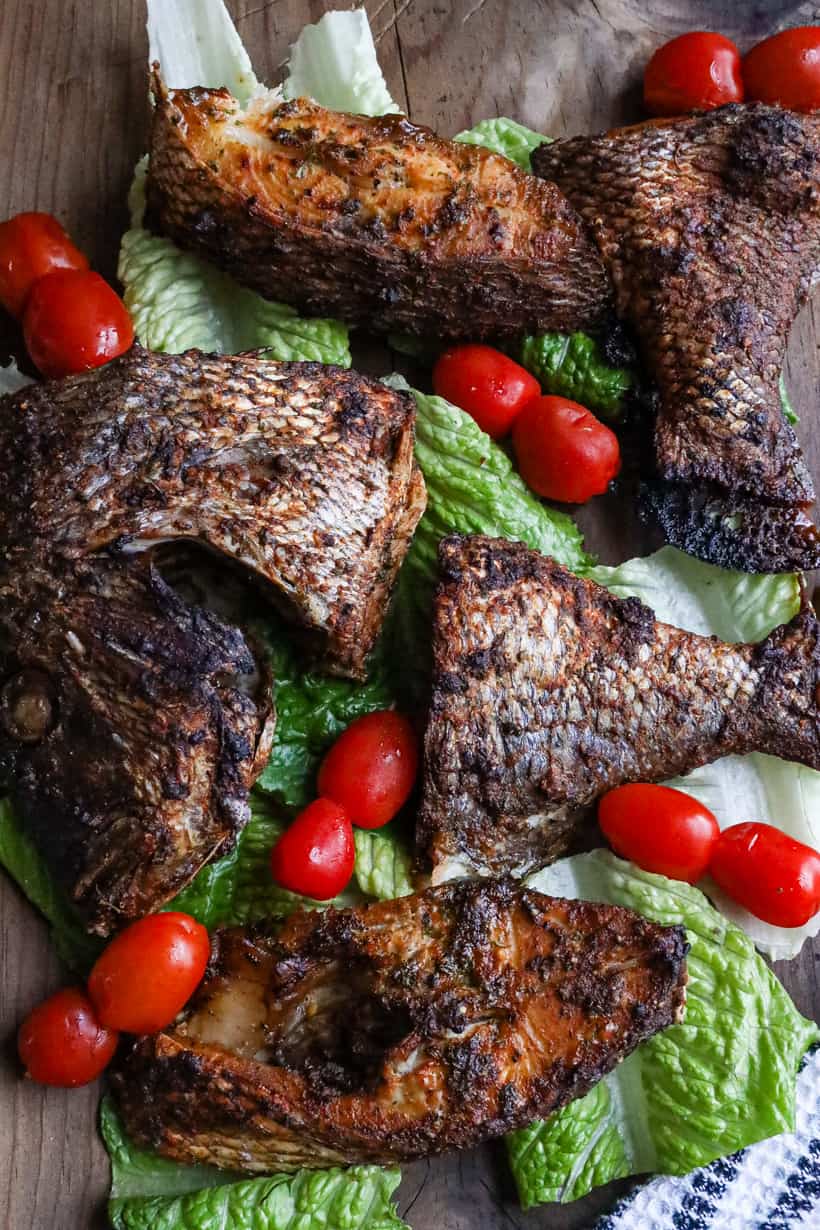 Ranging from dry basil to parsley and lemon pepper, every ingredient comes together to create the tangy and savory flavor that everyone craves in seafood.
Porgies are frequently found in the U.S. coastlines and sometimes called sea breams, this fish are normally high-backed snapper- or grunt-like fishes.
Continue reading as we share all the delicious details about this air fried porgy fish recipe.
Porgy Fish
Porgy fish have a single dorsal fin. They have small mouths, but their teeth are strong enough to handle any hard-shelled food that may come their way.
Porgy fish is a firm-fleshed and white fish with medium fats, making it a perfect choice for people who like the fishy flavors.
It has edible skin and a mild flavor that's elevated with roasting or air frying; especially when you use aromatic and delicious ingredients like parsley, basil, lemon pepper, and salt.
In addition, the braising of olive oil keeps the fish tender and moist.
This fish is one of the most delicious fish out there with its mild flavor and crispy skin that's made with either roasting in the oven or air fried.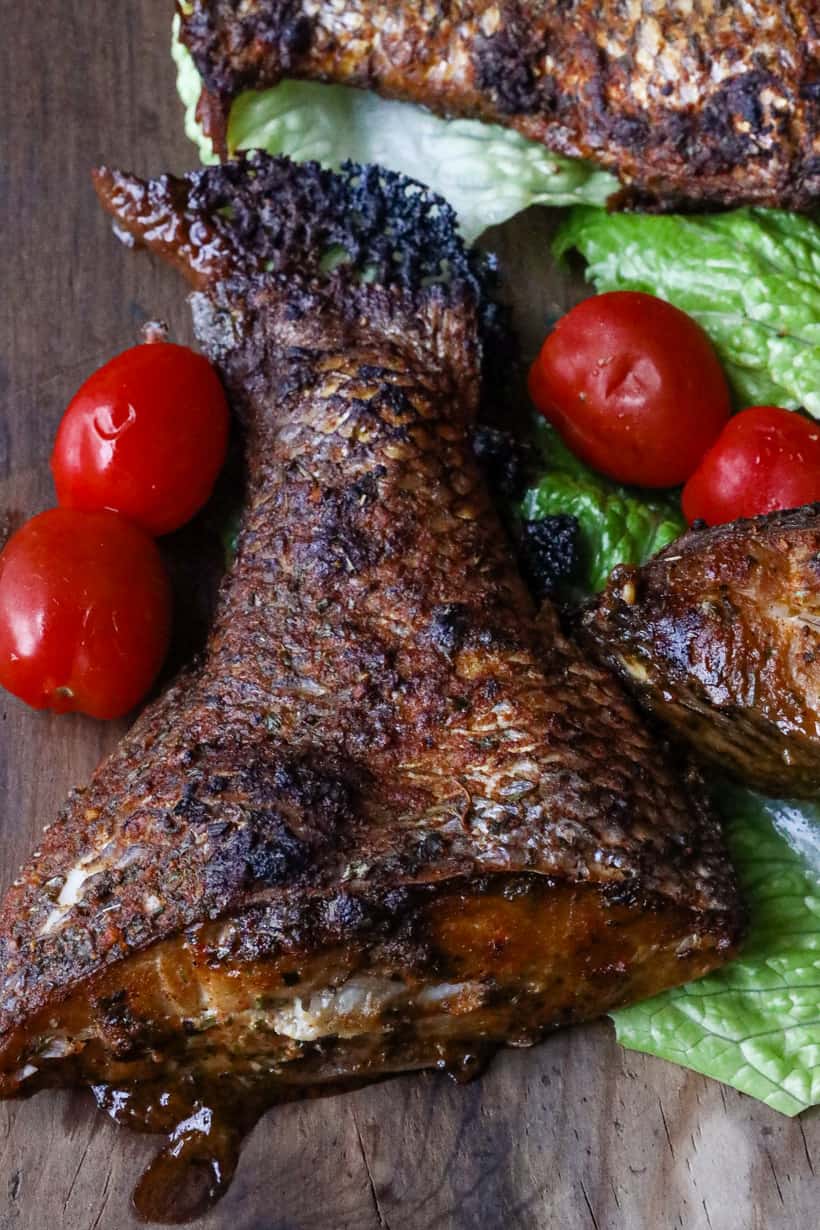 In fact, the addition of lemon pepper adds the tanginess and spiciness that seafood usually lacks.
The best thing about porgy fish is that it can be made in a broiler with lemon and scallions, but it falls to your taste preferences and convenient cooking method.
This fish recipe can be enhanced with a bed of lemon slices that infuses your fish with delicious flavors, and the addition of extra virgin olive oil helps keep the skin crispy and flesh juicy and moist.
Ingredients & Cooking Method
Starting from Massachusetts to Long Island, Porgy fish is one of the most available fish with the best nutritional profile.
This is because porgies are loaded with selenium, niacin, phosphorus, vitamin B12, vitamin B6 and doesn't have much sodium – all these nutrients make the fish delicious, yet, healthy-ish meal that everyone deserves savoring.
To make this air fried porgy fish recipe, here's what you'll need.
2 Porgy Fish: Cleaned and cut into desired size.
2 Tsp. Salt: To season the fish.
1 Tsp. Dried Basil Leaves: To add a delicious warm flavor.
1 Tsp. Onion Powder: Adds depth of flavor to the fish.
1 Tbsp. Oil: To help the fish crisp up.
1 Tbsp. Lemon Pepper: To add acidity to fish and works well with the garlic powder and onions.
2 Tsp. Paprika: Adds a slight tang to the recipe.
1 Tbsp. Parsley: Adds warm gentle flavor to the fish alongside the basil.
1 Tbsp. Garlic Powder: Works well with the herbs.
Clean the fish thoroughly then pat dry.
Place the fish in a bowl, then add the olive oil, salt, lemon pepper, paprika, garlic powder, onion powder, parsley, and basil. Mix well to combine.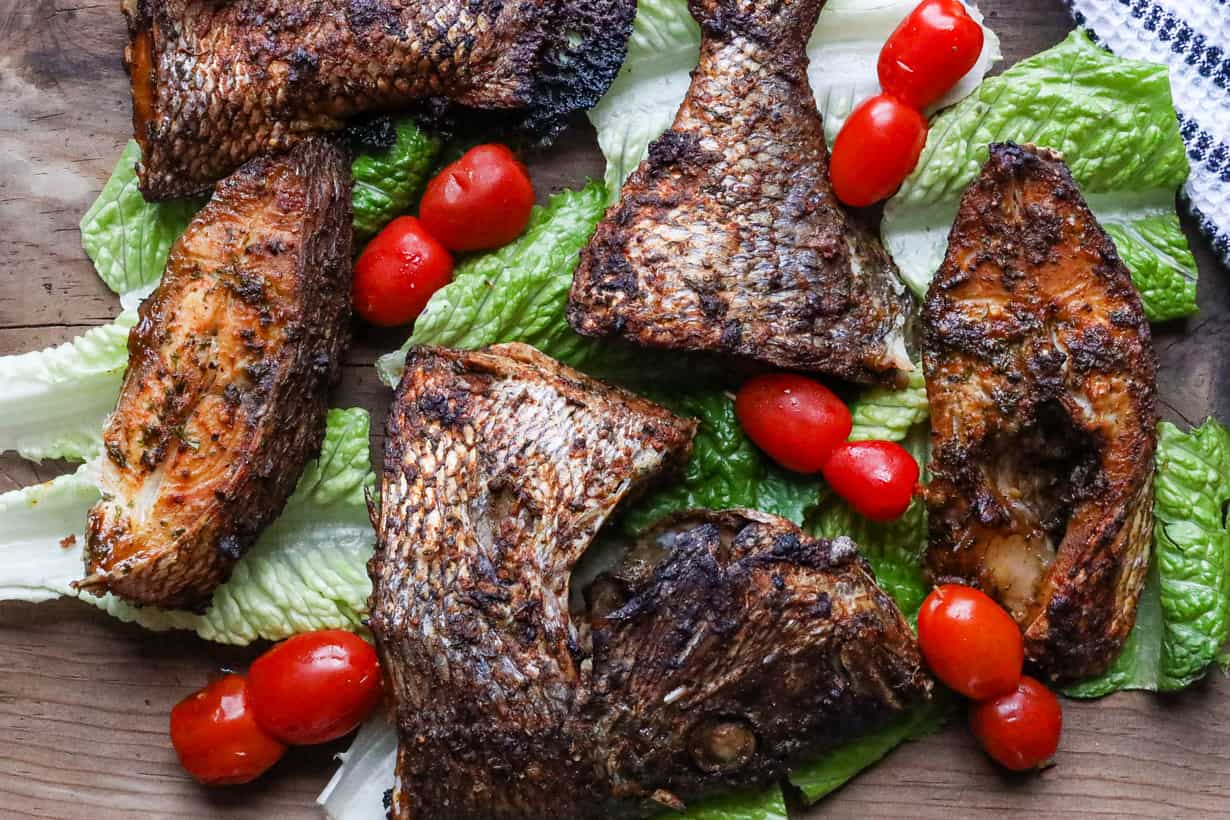 Place the fish in the air fryer basket or tray and air fry at 345 degrees until fully cooked and you have reached your desired crispiness.
Add more oil if needed when it is halfway cooked. We cooked our fish for 18 minutes.
Do I Need To Coat The Fish Before Frying
No, you do not need to coat the fish when it is air fried.
If you are deep frying the fish, feel free to coat the fish with flour and starch to provide a crispy outer layer texture.
Feel free to also use corn meal instead of corn starch. This will provide the fish with a grainy, crispy texture when deep fried.
Preparation Tips
When handling and preparing the fish. We recommend wearing gloves as the fish has a strong fish smell. This will make it easier for you to clean your hands afterwards.
When seasoning, use a large bowl, or a Ziploc bag to assure that the fish is properly coated.
If you would prefer to deep fry the fish, be sure that the oil is at 350 degrees.
You may also roast the fish in the oven at 350 degrees for 12 to 18 minutes.
What To Serve With Porgy Fish
This air fried Porgy fish recipe works well with Haitian Black Rice, Haitian Style White Rice, and Haitian Red Beans and Rice.
It's also great with this Ghanaian Jollof Rice and this Ghanaian Tomato Stew. In addition, it can be served with roasted scallions and fresh lemon juices. On top of everything, its flavor is elevated with salsa, like this cowboy caviar!
How To Store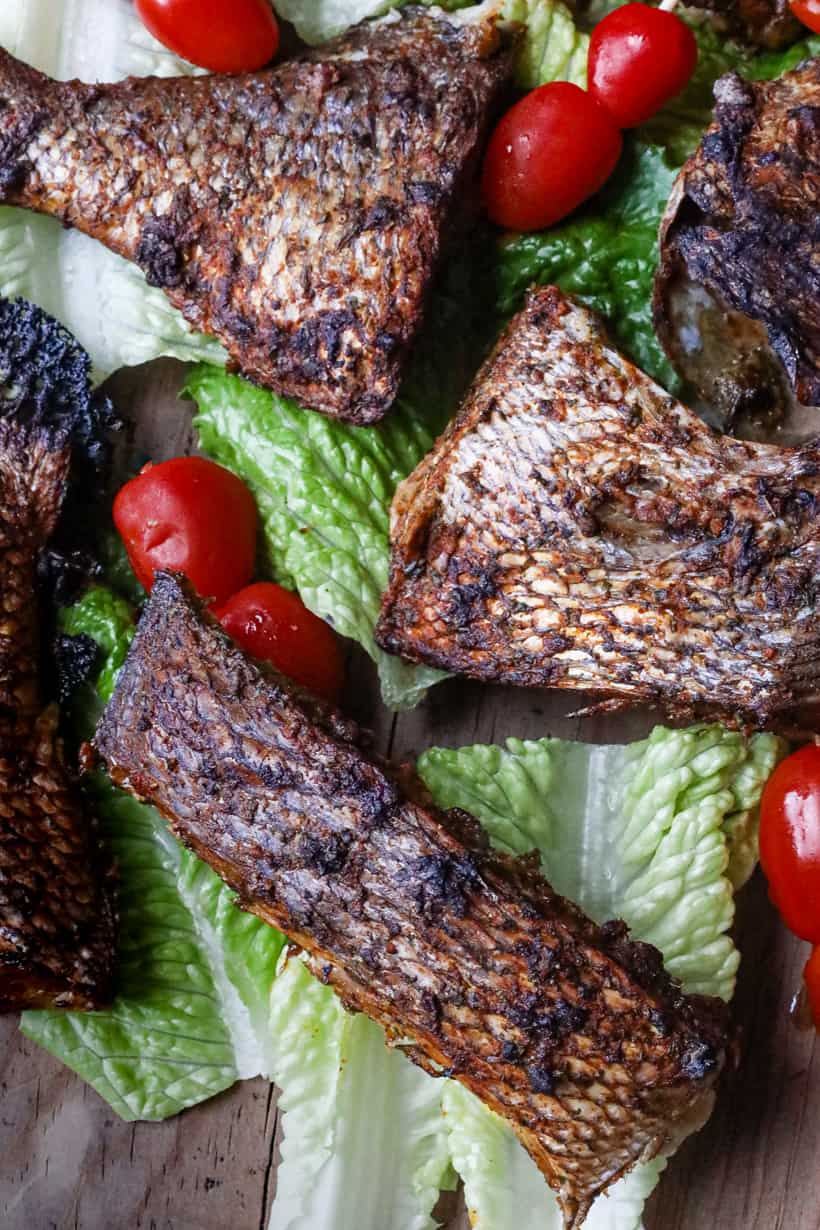 The cooked Porgy fish should be stored in a shallow container, but the container must be covered.
Once stored in the container, it should be cooled down to the right temperature.
Your cooked air fried Porgy fish dish can be stored for over three days in the refrigerators. However, if you want to store it for a longer time, you can freeze the fish for over one month to make sure the texture and flavor aren't compromised.
More Fish Recipes To Try
BOUILLABAISSE (FRENCH FISH STEW)
AIR FRYER FISH AND CHIPS RECIPE
More International Dishes To Enjoy
If you enjoyed this fish recipe, we recommend you try one of these recipes next.
Kuku Sabzi – Persian Herb Frittata
It warms our hearts to see the recipes you make from this site, and we'd especially would love to know if you tried this recipe.
Tag us on Instagram or Facebook so we can see your beautiful dish.
Also, we would appreciate if could give it a star rating below!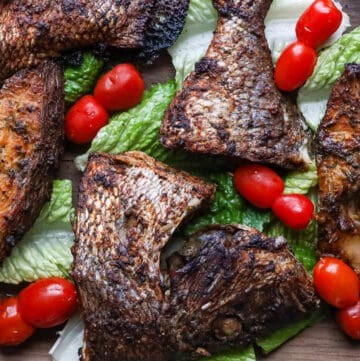 How To Air Fry Porgy Fish
Prepared with tantalizing flavors, this air fried porgy fish make a great choice for a weeknight, delicious meal.
Print
Pin
Rate
Ingredients
2

Porgy Fish; Cleaned and cut into desired size.

2

Tsp.

Salt

1

Tsp.

Dried Basil Leaves

1

Tsp.

Onion Powder

1

Tbsp.

Oil; More if needed

1

Tbsp.

Lemon Pepper

2

Tsp.

Paprika

1

Tbsp.

Dried Parsley Flakes

1

Tbsp.

Garlic Powder
Instructions
Clean the fish thoroughly then pat dry.

Place the fish in a bowl, then add the olive oil, salt, lemon pepper, paprika, garlic powder, onion powder, parsley, and basil. Mix well to combine.
Video
Notes
**** When printing the recipe, please unselect the camera so that the pictures are NOT printed with the recipe (if preferred).
Calories are estimated per serving.
Disclaimer: This post may contain affiliate links. See our full Privacy Policy. We may receive compensation by clicking on the links and or making a purchase.