This delectable, mouthwatering Blueberry Milkshake is a perfect way to cool down this summer.
Made with fresh blueberries and natural flavored ice cream, this milkshake is not only refreshing but so easy to make!
Ingredients
For this recipe you'll need the following ingredients:
Natural Vanilla Ice Cream: We used Breyers' Natural Vanilla ice cream as it is made with fresh cream, sugar, milk, and Rainforest Alliance Certified vanilla beans.
Fresh Blueberries: If you do not have fresh blueberries, frozen berries will also work.
Milk: We used 1% percent milk. You may also use almond milk or coconut milk to give it a tropical flavor.
Banana: We also added 1 ripe banana to further thicken the shake.
How To Free Fresh Blueberries
If you want to freeze fresh blueberries, place them on a baking tray in a single layer and freeze them for 8-10 hours.
Once they are frozen, transfer the blueberries in a freezer-safe bag, store them for 8-10 months, and use them whenever needed.
How To Make The Shake
The full recipe is listed below in the recipe card on How do you make the blueberry milkshake.
For now, here are the step-by-step instructions with photo guide to make this drink with ease.
In a high-speed blender, add the milk, ice cream, blueberries, and banana.
Blend until smooth. Transfer to a glass. Enjoy.
Which Milk To Use
As stated above, you can use any milk you'd like. We used 1 percent milk as it is lower in calories and fat. Skim milk is too watery.
Make It Without Ice Cream
You do not need to use ice cream to make this shake.
Greek yogurt and or other frozen fruits will work just as fine, although the taste may alter slightly depending on the ingredients which are added.
Frequently Asked Questions (FAQ)
Do blueberries curdle milk?
Yes, blueberries can curdle milk. Blueberries has pectin, which is a natural starch that's found in fruits and vegetables. Pectin is what make jellies and jams be used as a fat replacement.
Do blueberries have pectin?
Yes, blueberries are very high in natural pectin.  it is very safe. However, to loosen the shake, simply blend for a 1 minute before transferring to a glass. 
How to make blueberry milkshake vegan?
To make the shake vegan, blend the blueberries with Almond or coconut milk, banana, nuts if desired, and or other mixed berries.
Blending Tips
If you don't have fresh blueberries, you can use frozen blueberries.
You can use Yogurt instead of milk.
You do not have to use ice cream. Although, we prefer use all natural ice cream. You can use frozen yogurt. Plain yogurt will work as well.
It is better to prepare shakes from fresh berries during the season, and in winter, frozen ones are quite suitable.
For an extra creamy texture, feel free to add frozen banana or other berries instead of using ice cream. The frozen treats almost act as the ice cream in this "milkshake."
Serving Suggestions
You can top milkshakes with ice cream or whipped cream. Other suggestions also may include:
Mint
Mixed berries
Dry berries
Nuts
Another option is to drizzle down chocolate syrups on the sides of the glasses before pouring the milkshake.
How to store
Blueberry milkshake keeps well in the refrigerator for 1 to 2 days. The top layer may darken in color and can easily be scooped up.
Blend or stir well before drinking.
Let's Sum Up
This is a very successful recipe for making a cooling milkshake with blueberries, which you will love and will be pleasantly surprise by its wonderful taste!
In the hot season, a glass of this blueberry smoothie will serve as a quick snack, leaving a feeling satisfied until your next meal!
More Drinks & Smoothies To Try
Blueberry Smoothie With Almond Milk
It warms our hearts to see the recipes you make from this site, and we'd especially would love to know if you tried this blueberry milkshake.
Tag us on Instagram or Facebook so we can see your beautiful dish.
Also, we would appreciate if could give it a star rating below!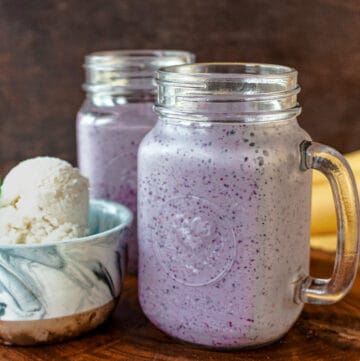 Blueberry Milkshake
Fresh Blueberry Milkshake to keep you cool this summer. Prepared with natural flavored ice cream, this shake is refreshing and easy to make!
Ingredients
9 Ice Cream Scoops

All natural Vanilla Ice Cream

¼

Cup

Milk

Or choice of milk

1

Pt.

Fresh Blueberries

1

Ripe Banana

Whipped Cream For Topping

Optional
Instructions
Notes
This post was first published in May 2020. It has been updated with new pictures. The exact recipe remains the same. 
Use a high quality blender to blend all of the berries to avoid lumps. 
This recipe works with any flavored ice cream. 
**** When printing the recipe, please unselect the camera so that the pictures are NOT printed with the recipe (if preferred).
Calories are estimated per serving only.
Nutrition
Serving:
4
Servings
Calories:
291
kcal
Carbohydrates:
33
g
Protein:
6
g
Fat:
11
g
Saturated Fat:
6
g
Cholesterol:
30
mg
Sodium:
62
mg
Potassium:
297
mg
Fiber:
3
g
Sugar:
34
g
Vitamin A:
8
IU
Vitamin C:
14
mg
Calcium:
15
mg
Iron:
1
mg