Melt-in-your-mouth deliciousness. These Instant Pot Guinness Short Ribs are super comforting, delectable, tender, and pure goodness!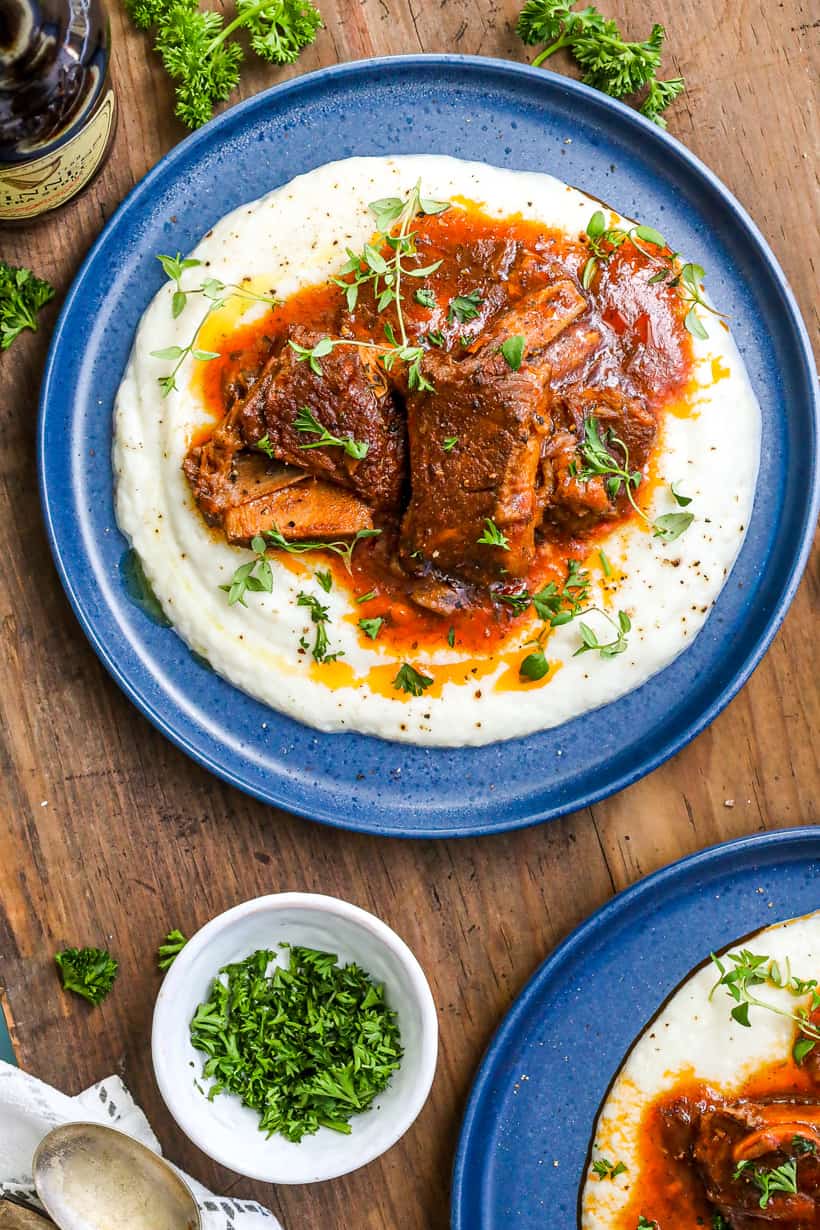 If you are big on comforting and hearty food, then the Guinness Short Ribs might be a great option for you.
They are quick to prepare as they were prepared in the Instant Pot to save time on time, the ribs are cooked in a rich broth.
This dish is great for fall and winter. When topped over a bed of your favorite creamy sour cream mashed potatoes, it offers a delicious, soothing comfort as the meat melt in your mouth.
While this dish is not fast food that gets done in a few minutes, every second spent preparing this dish is worth it.
Cooking With Guinness
First things first, cooking with Guinness. As much as Guinness is more popular for being a black stout, people have been using this popular beer brand for cooking since time immemorial.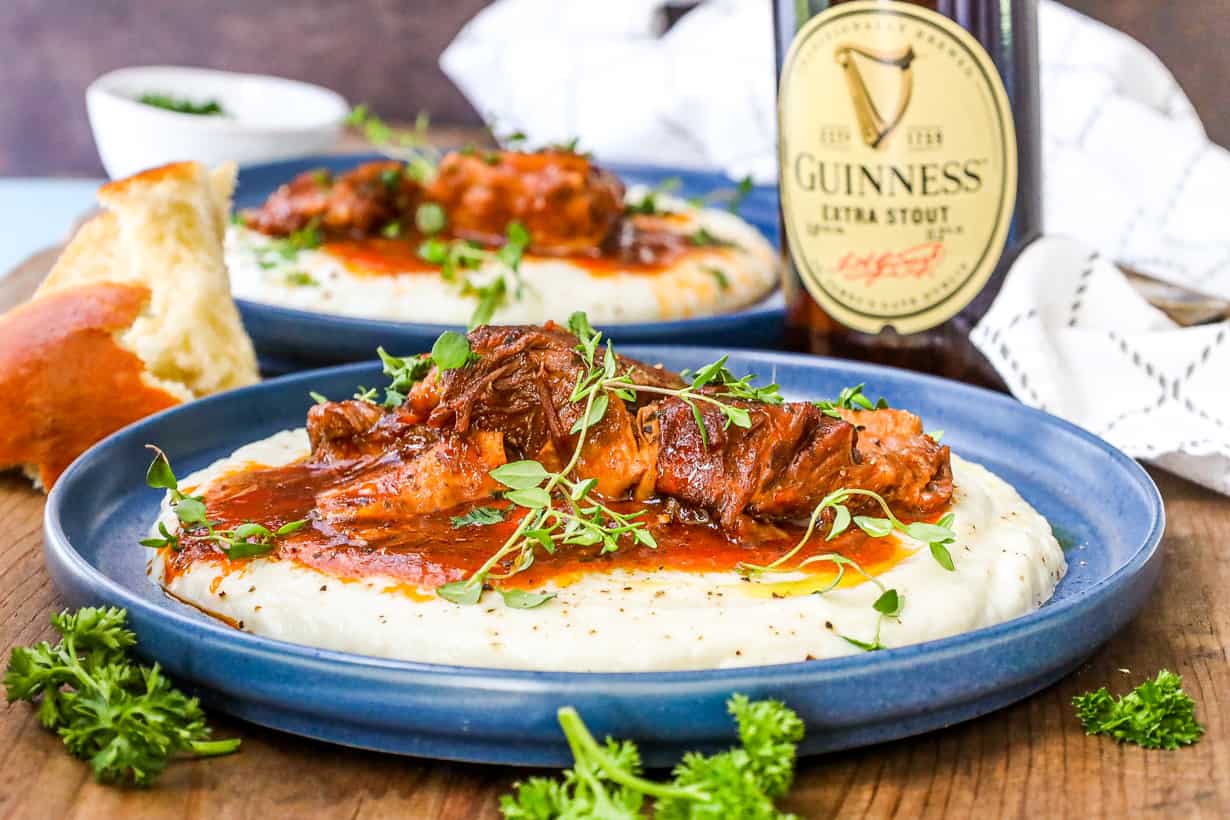 As far back as 1759, when Arthur Guinness invented the stout, it has been a standard part of Irish food. It is added both as an integral ingredient and a befitting companion to many dishes.
While it may feel weird to pour your stout into the pot for cooking, history shows that many foods that have been enjoyed in the past have Guinness in them.
Dishes such as chunky soups and winter stews have some amount of stout in them. Guinness is also known to be used for seafood such as oysters, lobsters, and mussels. Some chefs also use the stout in preparing the batter for fried fish.
Guinness works well with food with rich and strong flavors. The flavors of these foods are then enhanced by the roasted bitter taste of the stout.
This roasted flavor is also one of the reasons why Guinness works well with certain foods such as oysters, dark chocolate, or beef stew.
Apart from the traditional dishes, there's also a place for the use of Guinness in modern dishes. You can enjoy a special Christmas roast lamb by dipping your lamb into about 2 pints of Guinness beer instead of water.
The beer won't overpower the taste or flavor of the meat but will only leave you with a ham infused with Guinness that is perfect for serving, hot, cold, or warm.
What is Braising and should you Braise Your Meat?
Because this dish is prepared in the instant pot, braising the meat is not necessary. However, it doesn't hurt to do so either.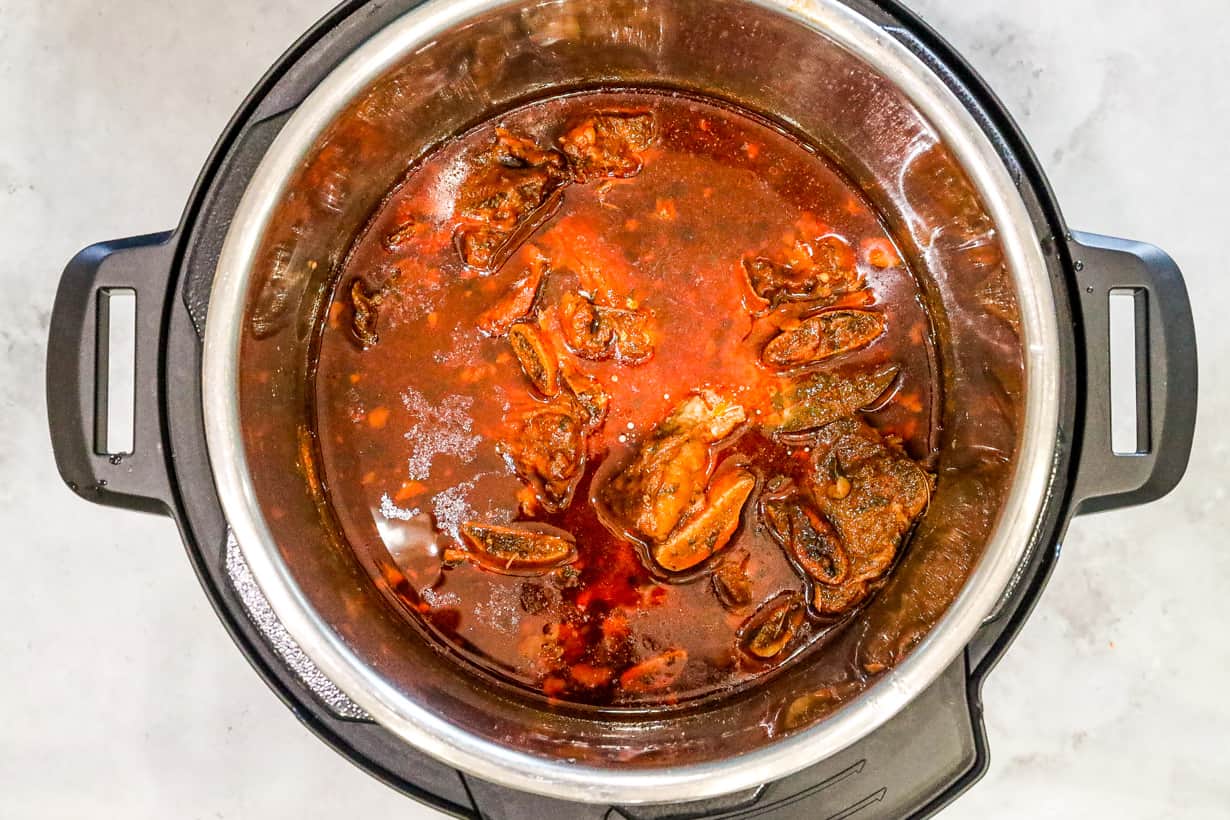 In case you are wondering what Guinness does in the process of making short ribs, here is your answer; braising.
Braising is a method of cooking that involves pan searing and slow cooking in a liquid till the ingredients become very tender.
At the end of the braising process, the ingredient and the liquid used to cook them become something harmonious as they share the same flavor, aroma, and taste.
In this case, the ingredients are the meat or short ribs, and the liquid used for slow cooking is the Guinness stout.
You use braising as a method of cooking when you need a deeper level of flavor and a soft, caramelized, and melty texture from your beef or meat.
Regardless of the type of meat, braising works excellently well, including lighter texture meat such as chicken and tougher meats such as breast brisket.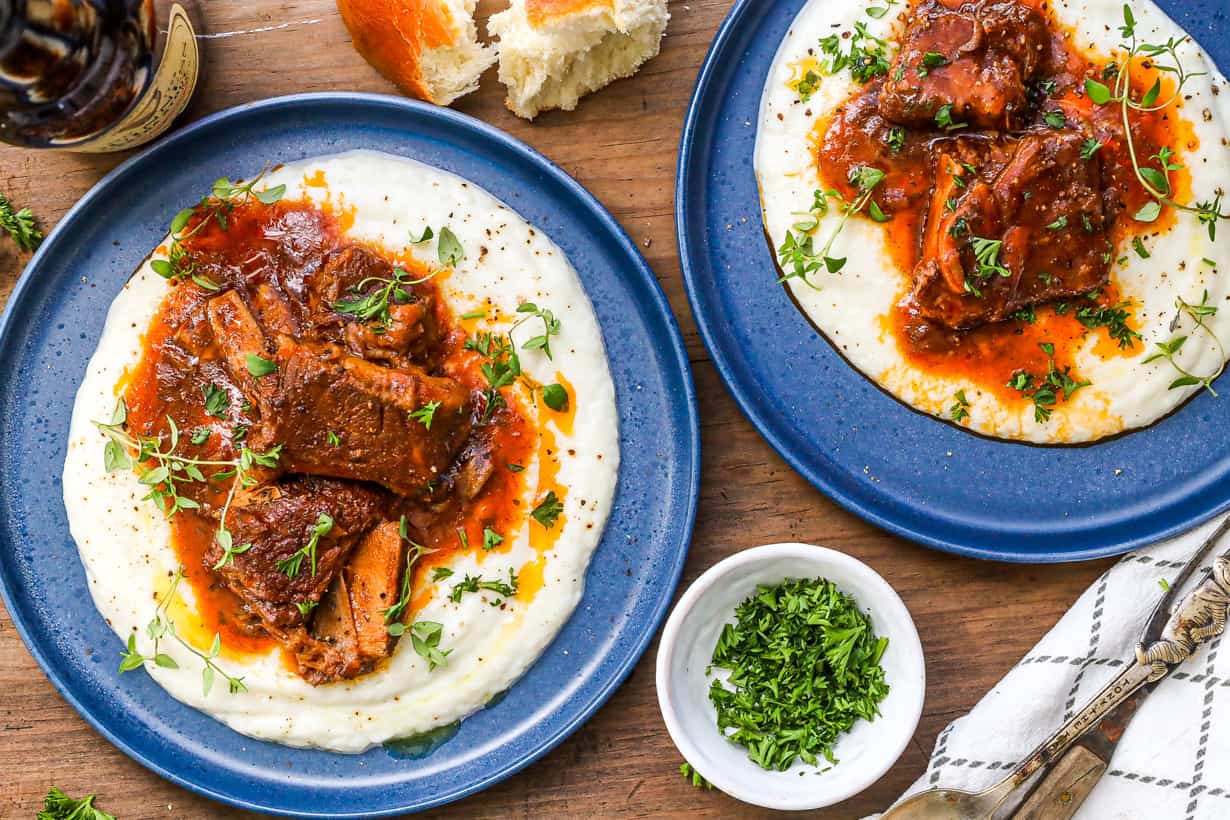 Braising works by tenderizing the meat, dissolving the connective tissues and collagen into gelatin, and infusing the flavor into every fiber of the meat until it is fork tender.
Braising is a bit similar to stewing, but certain things make them different from each other.
The similarities between them include the use of low heat and slow cooking process, the addition of flavor to meat and veggies, and their use for cooking tough and soft meat.
However, the leading difference between the two cooking processes is that stewing involves cooking smaller pieces of meat while braising deals with much larger pieces and cuts of meat.
Short Ribs
Short ribs are taken from the brisket, ribs, chunks, or breast of the beef. They can be compared to the spare ribs in pork.
The only difference is that the short ribs are meatier and larger than the pork spare ribs.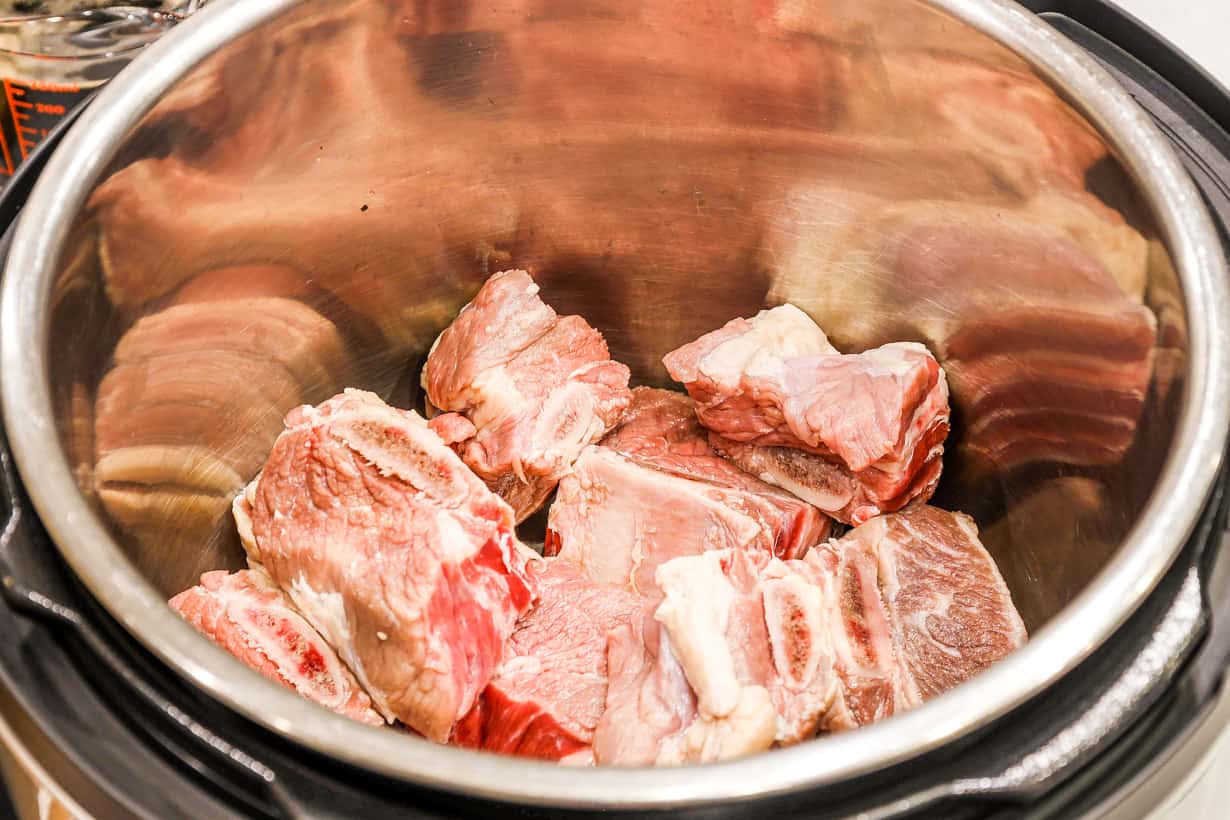 Substitution and Variations
Guinness allows you to braise the meat in this dish.
Its deep brown color and rich dense head, coupled with the light, smooth and velvety flavor, make it possible for the stout to ensure an ideal braising process.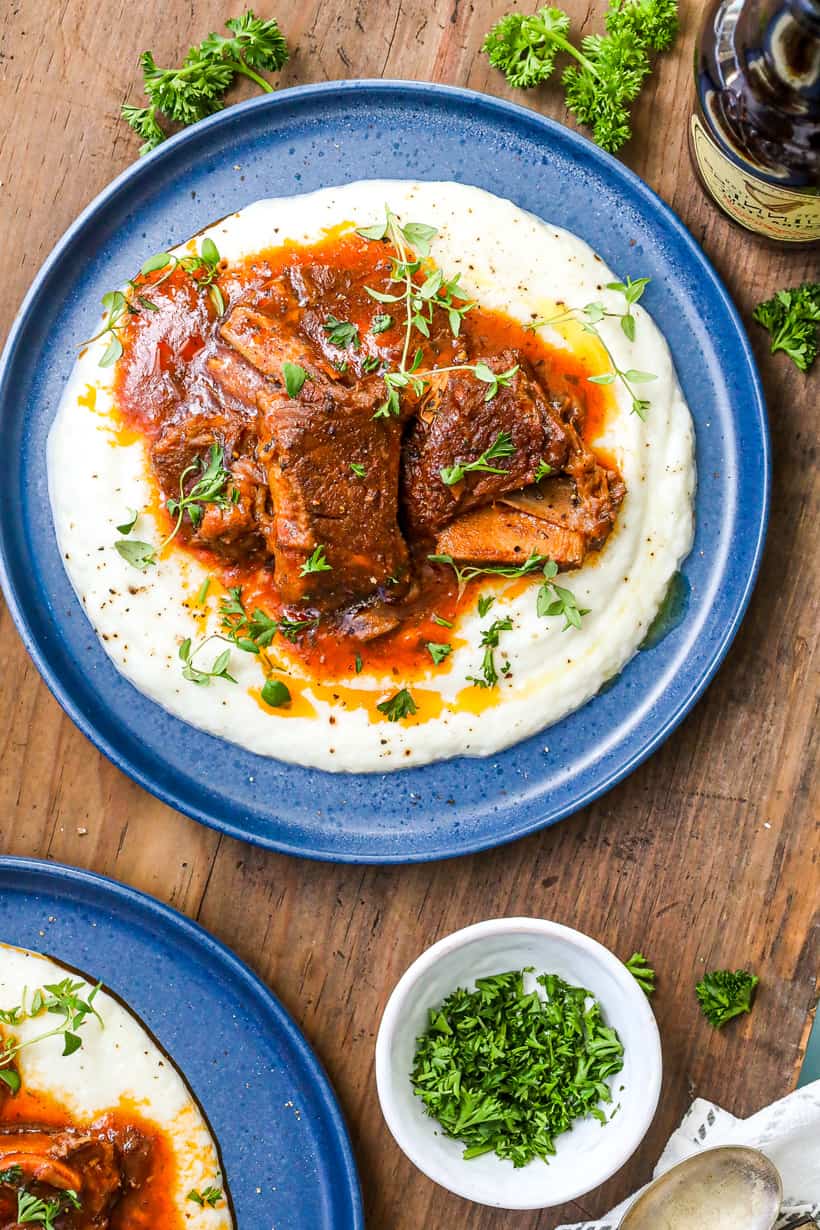 Thus, if you're looking to substitute Guinness for another option, it'll be best to stick to Irish stouts, as they all have almost the same features.
You can also opt for red wines such as Zinfandel, Cabernet Sauvignon, or Shiraz.
Tips for Making Guinness Short Ribs
If you decide to braise your meat first, ensure not to completely submerge the short ribs during braising. The idea is to allow the ribs to simmer at low temperatures for a long time. This is what makes the meat tender and soft as required. If you are not braising your meat first, simply add the ingredients to the instant pot.
When choosing the short ribs, it doesn't hurt to have some pieces of fat running through the meat. This helps with flavor, however, it is not compulsory as the short ribs with no fat will also work perfectly.
You can use stew meat, also known as braised steak (if braising) in other parts of the world to achieve the same results.
The equipment used for the cooking process determines the total time used. If you opt for a Dutch oven instead of the instant pot, you can complete the braising process within 2 to 3 hours. Using the slow cooker brings the time taken for braising to about 8 to 10 hours.
The time taken for meats to get tender also depends on the type of meat you are using.
Serving options for Guinness Short Ribs
Many options go well with the Guinness Short Ribs. One of the best options includes mashed potatoes, like this skin on mashed potatoes recipe.
Until you've tasted it, one cannot possibly describe the delicious nature of the mashed potatoes drenched in the sauce gotten from cooking the ribs slowly.
There is also the option of using creamy polenta or mais moulen, salad, or pasta.
In addition, you can also serve it with this Ghanian Jollof Rice, this Homemade Cheddar Grits, and this smoked mac and cheese.
Storage and Reheating
If you have leftovers from the instant pot Guinness Short Ribs dish, you can store them in airtight containers and refrigerate them for about 3 to 4 days.
You can also freeze the dish by putting them in a freezing bag or airtight containers.
This will keep them stable and edible for about 2 months.
More Stews To Try
If you loved this Guinness Short Ribs recipe, we recommend you try one of these recipes next.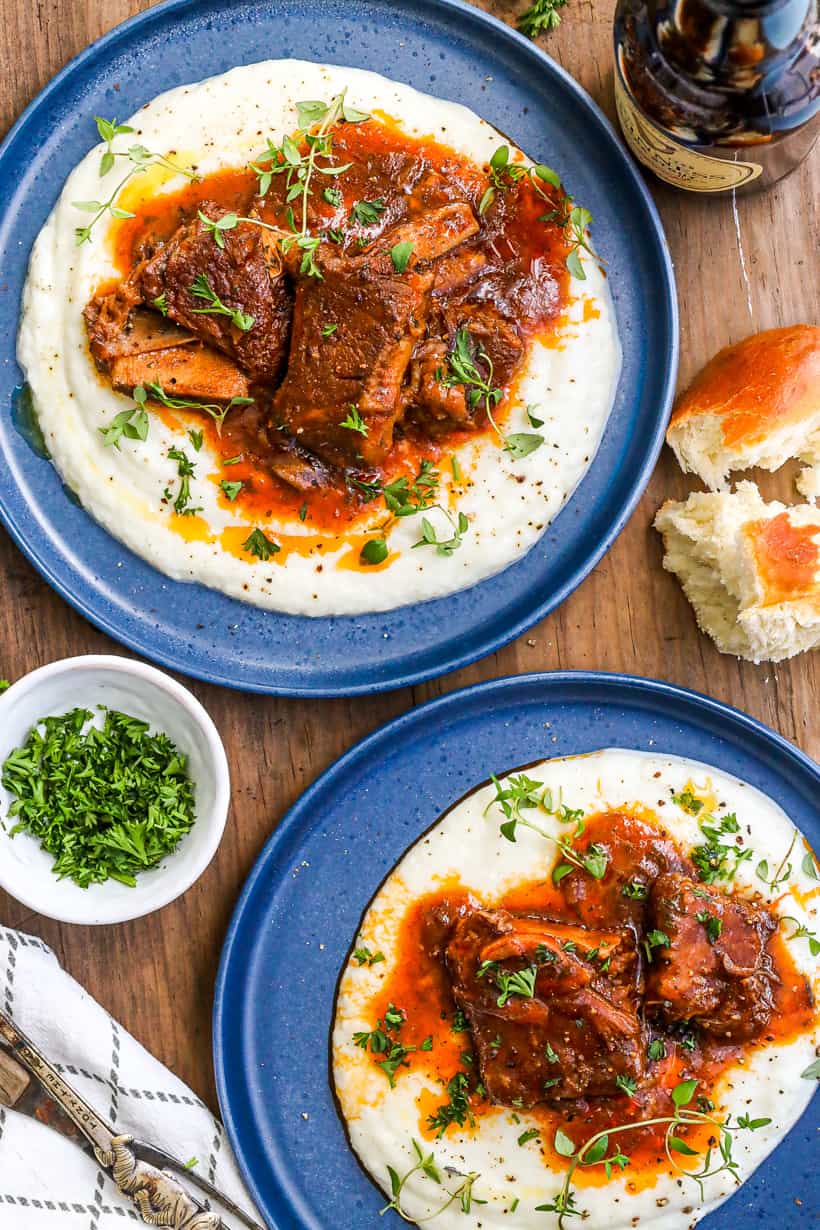 It warms our hearts to see the recipes you make from this site, and we'd especially would love to know if you tried this recipe.
Tag us on Instagram or Facebook so we can see your beautiful dish.
Also, we would appreciate if could give it a star rating below!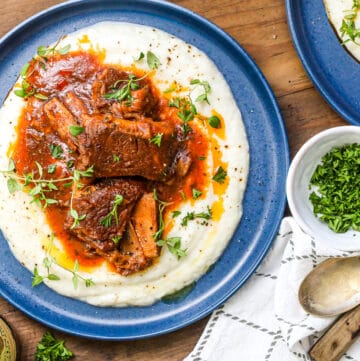 Instant Pot Guinness Short Ribs
These Instant Pot Guinness Short Ribs are super comforting, delectable, tender, and pure deliciousness!
Ingredients
3

Strips Short Ribs

1

Cup

Guinness Beer

Extra Stout

8

Thyme Sprigs

1 ½

tsp.

Paprika

3

Bay Leaves

½

tsp.

Ground Fennel

1

tsp.

Cumin

½

tsp.

Onion Powder

1

tsp.

Dry Parsley

or 1 bunch of fresh parsley

1

tsp.

Garlic Powder

or 2 fresh garlic cloves (minced)

1 ½

tsp.

Kosher Salt

or to taste

½

tsp.

Cayenne Pepper

2

Tbsp.

Tomato Paste

2

Tbsp.

Cornstarch

¼

Cup

Water
Instructions
Prep your ingredients. Wash and pat dry your meat with paper towels, and place the meat in the instant pot.

Then add in the remaining ingredients except for the cornstarch and water mixture. Mix well.

Next, secure the instant pot lid. Cook on Manual/High Pressure for 40 minutes with a 15 minute natural release.

Once completed, remove the instant pot lid, select sautée and adjust the timer to 30 minutes. Mix the cornstarch and water to create a slurry. Pour the mixture in, and continue to cook until sauce has thickened (create more slurry if needed or if you want it thicker).

Serve ribs over mashed potatoes with a spoonful of gravy from the pot and enjoy!
Video
Notes
**** When printing the recipe, please unselect the camera so that the pictures are NOT printed with the recipe (if preferred).
Calories are estimated per serving. 
This post may contain affiliate links, please read our full disclosure here!
Nutrition
Serving:
4
Serving
Calories:
264
kcal
Carbohydrates:
42
g
Protein:
7
g
Fat:
5
g
Saturated Fat:
2
g
Polyunsaturated Fat:
1
g
Monounsaturated Fat:
3
g
Trans Fat:
1
g
Cholesterol:
22
mg
Sodium:
497
mg
Potassium:
79
mg
Fiber:
1
g
Sugar:
35
g
Vitamin A:
6
IU
Vitamin C:
1
mg
Calcium:
1
mg
Iron:
7
mg