Salad Nicoise – Originating from the city of Nice, this elegant salad is a quintessential French dish that's enjoyed the world over. Combining crisp, fresh vegetables with salty olives, hard boiled eggs, tuna and drizzled in a light, zingy dressing, it's no wonder that Salad Niçoise is such a popular dish.
While Nicoise Salad is traditionally made with potatoes, this recipe goes without, subbing in sweet roasted peppers to create a lighter dish that's still full of flavor. Ideal for a healthy lunch, light supper or even entertaining family and friends, this is a classic recipe that every home cook should know.
Tuna
This recipe calls for canned tuna in olive oil as opposed to water. You'll find that the tuna tastes much better and doesn't have the dry consistency that tuna canned in water often has.
Make sure to thoroughly drain your tuna, otherwise you may end up with a slightly soggy salad. As oil is more viscous than water, this may take a little while but is well worth the patience.
While you can use fresh tuna if you wish, the authentic Salad Niçoise is almost always made with the canned variety – and if it's good enough for the French then it's good enough for me!
Eggs
The eggs are quartered in a Salad Nicoise to allow for better distribution throughout the dish. As a result, you will definitely want to hard boil your eggs, similar to our Air Fryer Boiled Eggs here.
Having a soft, runny yolk may be delicious, but it will blend with your dressing and change the consistency of the dish.
Having said that, if you cut into your eggs and find that they aren't as cooked as they should be, there's no need to start again. Simply place the quartered eggs strategically on top of the salad so the yolk doesn't run out.
Your hard-boiled eggs will look much better if they are easy to peel, leaving you with a soft, shiny white and a beautiful finish.
The key to easier peeling is to use eggs that aren't super fresh and allowing them to cool in ice water before you begin peeling.
Lettuce
This recipe calls for red leaf lettuce, a highly nutritious variety that's rich in antioxidants and vitamins A and K. As with all the vegetables you select for this dish, you should take a little time in the store to select the freshest lettuce you can find, as this will have a big impact on the taste and texture of the end dish.
Romaine would also be a good swap for red leaf if you can't get a hold of it. In fact, you can happily substitute most other kinds of lettuce for a Salad Niçoise, though it does lend itself better to softer varieties like Bibb or Boston.
Definitely avoid crunchier options like iceberg if you can help it.
Vegetables
Traditionalists may exclude cooked vegetables from a Salad Niçoise, but this recipe has the addition of roasted bell peppers. As we are not using the cooked potato normally found in a Salad Niçoise, the bell peppers add a more substantial vegetable element as well as a slightly sweet flavor that compliments the rest of the ingredients.
When your peppers are done in the oven, feel free to pat them dry with paper towels before adding them to your salad. But this is not necessary as we did not do that when creating this recipe.
Be mindful that some of the water content drains out of peppers while they cook, and you may not want this additional liquid to mix in with the other ingredients.
All the other vegetables in this dish are fresh, including the green beans. While some Salad Niçoise recipes call for cooked green beans. Cook the green beans for about 3 minutes to allow their natural flavor to shine through and bring some additional texture.
For some added crunch and freshness, chopped cucumber and radish are also added, providing a beautiful contrast to the softness of the tuna and hard-boiled egg.
Olives
True Niçoise olives are grown in southern France and are a small, dark variety that is cured in brine. Because of the curing process they have a particularly salty taste and have a naturally sour and slightly nutty flavor.

You may be able to find Niçoise olives in the international section of your local store, but don't worry if you can't. Kalamata olives are an excellent substitution, and you should be able to find those at any grocery store.
Dressing
In typical French style, the dressing that accompanies Salad Nicoise uses just a few ingredients with a whole lot of flavor. Freshly squeezed lemon juice is combined with olive oil and vinegar before being seasoned to taste, resulting in a sharp and zingy sauce that ties all of the fresh ingredients together. While you can find bottled Niçoise dressing, it's so easy to make yourself and tastes that much better.
When cooking for others, you can always serve the dressing separately on the table and allow your guests to dress their salad themselves. If you do want to dress the salad before serving, make sure to do so gently so you don't break up any of the eggs or disrupt your fresh ingredients too much.
If you have any dressing leftover you can store it in a tightly sealed jar in the fridge, where it will keep for around 2 days. Make sure to only dress the salad that you are serving straight away.
This not only ensures all the ingredients will stay at their freshest, but also makes it easier to store any leftovers, which you can read more about below.
How To Store
As it is mostly made up of fresh vegetables, it won't be long before your Salad Niçoise begins to wilt (especially if it has already been dressed). As a result, it's always best to eat your Salad Niçoise straight away. However, if you do find you have some leftovers, you can transfer them to a lidded Tupperware.
The salad will still be fine to eat the next day, but it will be lacking the crunchy consistency and lightness of the freshly-made dish.
Niçoise Salad Ingredients – Variations
The full list of ingredients and exact measurements are listed in the recipe card.
For now, listed below are various type of ingredients you can include in the salad. These ingredients will help you make the dish perfectly, every single time.
Yukon Potatoes
Salmon
Chicken (Not traditionally added)
Chickpeas (Not traditionally added)
Broccoli (Not traditionally added but will provide some crunch)
More Salad Recipes To Enjoy
If you love this Salad Nicoise recipe, we recommend trying one of these salad recipes next.
It warms our hearts to see the recipes you make from this site.
We'd especially would love to know if you tried this recipe, tag us on Instagram or Facebook so we can see your beautiful dish.
Also, we would appreciate if could give it a star rating below!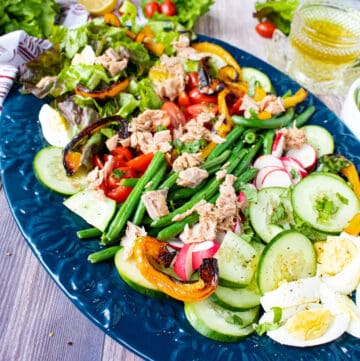 Nicoise Salad Recipe
Salad Niçoise – Originating from the city of Nice, this elegant salad is a quintessential French dish that's enjoyed the world over. Combining crisp, fresh vegetables with salty olives, hard boiled eggs, tuna and drizzled in a light, zingy dressing, it's no wonder that Salad Niçoise is such a popular dish.
Print
Pin
Rate
Ingredients
1

Bell pepper

Wash and Seeded. Cut into strips. Roasted with 1 tbsp. Olive Oil

12

Oz.

Fresh Green Beans

Trimmed (ends clipped). Wash

4

Eggs

Hard Boiled; Quartered

1

Lb.

Red Leaf Lettuce

Wash and drained

1

Cucumber

Wash and sliced or cut into bite size pieces

¼

Red Onions

Optional; sliced

6

Radishes

Wash and sliced

10

Oz.

Salad Tomatoes

Or cherry tomatoes will work; cut in half

½

Cup

Seedless Black Olive 

Pitted

10

Oz.

Canned Tuna In Oil

2

Tsp.

Fresh Chopped Basil
For The Dressing
Juice From 1 Lemon

½

Cup

Olive Oil

½

Tsp.

Kosher Salt Or To Taste

½

Tsp.

Ground Black Pepper Or To Taste

4

Tbsp.

Vinegar

Distilled
Instructions
Roasted the bell peppers in the oven at 375 degrees for minutes. Cook the green beans for 3 minutes then set aside in an ice bath until ready to use.

Cook The Eggs. Then Set aside in an ice bath until ready to use.
Video
Notes
**** When printing the recipe, please unselect the camera so that the pictures are NOT printed with the recipe (if preferred).
Calories are estimated per serving. 
Disclaimer: 
This post may contain affiliate links. See our full 
Privacy Policy
. We may receive compensation by clicking on the links and or making a purchase.