Easy Fried Rice Recipe With Pigeon Peas
Click here to PIN the Easy Fried Rice Recipe With Pigeon Peas!
30 minutes or less Easy Fried Rice Recipe With Pigeon Peas. Addictive way to use leftover rice to create a one-pot meal.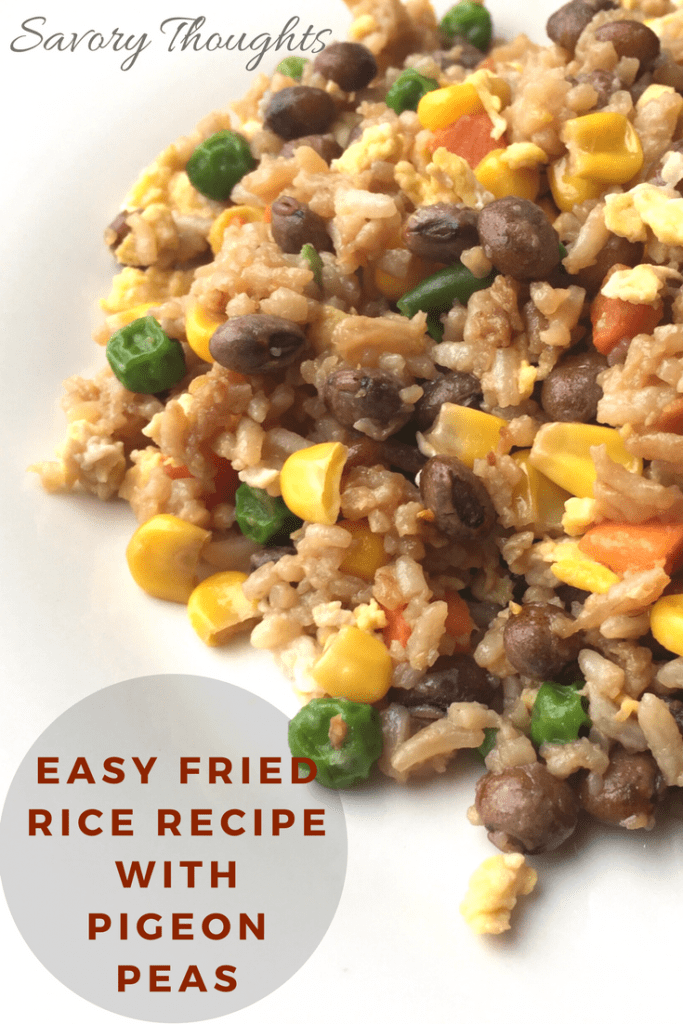 Friends, you know how much I love an easy meal. So today I am sharing with you how I turn leftover white rice into delicious Easy Fried Rice Recipe With Pigeon Peas.
Saturdays are hectic for us with our children. After a long day at the gym for various reasons, by the time we reach home we are exhausted and hungry. So, I looked in the freezer and noticed I did not have any sweet peas but I found frozen mixed vegetables which has sweet peas. Next, I checked the pantry and found a small bag of pigeon peas. Perfect!
If you are not familiar with pigeon peas, they are famous in Asia, Africa, and Latin America. These peas are also known as Cajanus cajan, and it is a perennial legume.
I know these peas are not traditionally used in fried rice, but I promise you will not even notice the difference. The great tip about fried rice recipes is that you can add whatever you want! I improvise based on the ingredients I have in my cabinet, refrigerator/freezer, and or pantry.
When making fried rice, I always use sesame oil and soy sauce. These two ingredients give the fried rice the authenticity I am looking for. The key to this recipe is to make it yours!
***
Faith is belief or absolute trust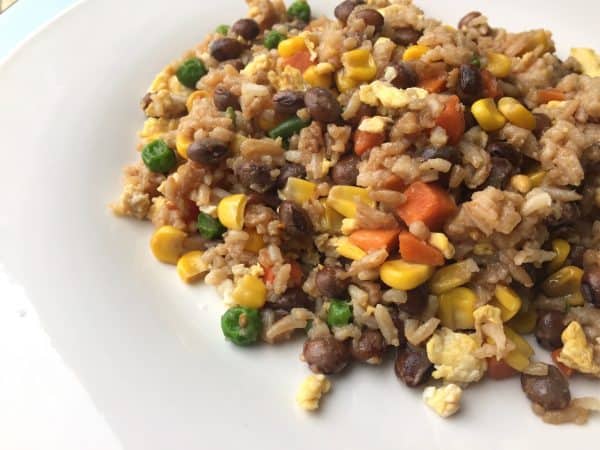 Cook Time

30

minutes or less
Cook Time

30

minutes or less
Scramble the eggs and set aside in a small bowl.

Preheat a wok (or large skillet) to medium heat. Pour olive oil in the bottom.

Add peas and mixed vegetables and fry until tender.

Add the scrambled eggs. Mix well.

Add the rice to the veggie and egg mixture.

Pour the sesame oil on top along with the soy sauce, and season with salt and pepper to taste.

Stir and fry the rice vegetable mixture until heated through and combined.
Tips and Notes / Most Noteworthy:
This recipe is perfect with added shrimp and or diced chicken breast.