Breakfast Smoothie Bowl – With Strawberries And Raspberries
Click here to PIN the Breakfast Smoothie Bowl – With Strawberries And Raspberries
A healthy morning usually includes a breakfast filled with fruits. Simple Breakfast Smoothie Bowl – With Strawberries And Raspberries made with only 4 ingredients.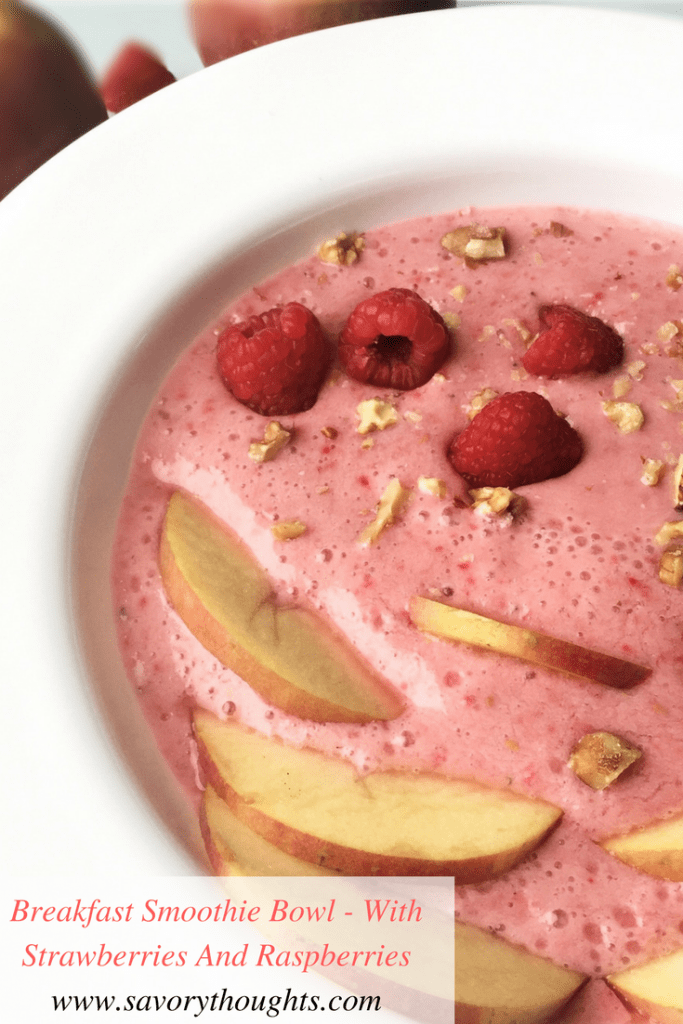 Friends, you are reading this post on a "work week", however, this post was written on a Sunday night which was intended to go live on Sunday afternoon.  Cooking, kids, along with their stories covering the entire week got in the way. You know the days where every kid has a story to tell and it takes forrrrrevvvverrrrr for them to tell you one important element? Only to find out all they wanted to share with you is that their friends wanted to do is tell them about the names of the trucks they learned from their dad? Well, that was my Sunday!
I am not a breakfast smoothie person. Not that I don't want to be one, I don't have the time to make smoothies in the morning – as simple as they are to make. I prefer smoothies in the afternoon or for dinner.
This particular little one is one precious little kid.  This kid will eat anything and everything under the sun. Especially if it's something healthy.
On Sunday morning I decided to make myself a breakfast smoothie while I prepare other contents for you lovely people.  My precious little one, of course, says to me "mommy what's that? and I want some". The little kiddo did not even wait for me to answer the question. Naturally, my response was "sure, no problem". Meanwhile, I'm thinking to myself I'm just going to make my little kiddo a simple smoothie and see if all will go well. Needless to say, I grabbed the raspberry and strawberries along with the milk, put it all in the blender, added a little vanilla extract, and voila – This post (breakfast) is created!
While blending away I thought to myself if this kid is asking for something healthy, why not make it healthy all the way. So, for toppings, I used granny apples, chopped almonds, and raspberries. After all, a healthy morning usually includes a breakfast filled with fruits, correct? I'm sure I read it or heard it somewhere J
Here are some quick fun Nutrition Facts regarding the key ingredients used in this recipe:
Raspberries – Calories 65 (per 1 cup)
Strawberries – Calories 4 (1 medium)
After I was done blending away, I put everything in a bowl, fixed it up nicely for my little kiddo and breakfast is served!
If you are looking for fun breakfast ideas to do with your kids, check out the Chocolate Zucchini Waffle post. Another wild idea from one of my little special ones.
***
Don't forget how far you've come.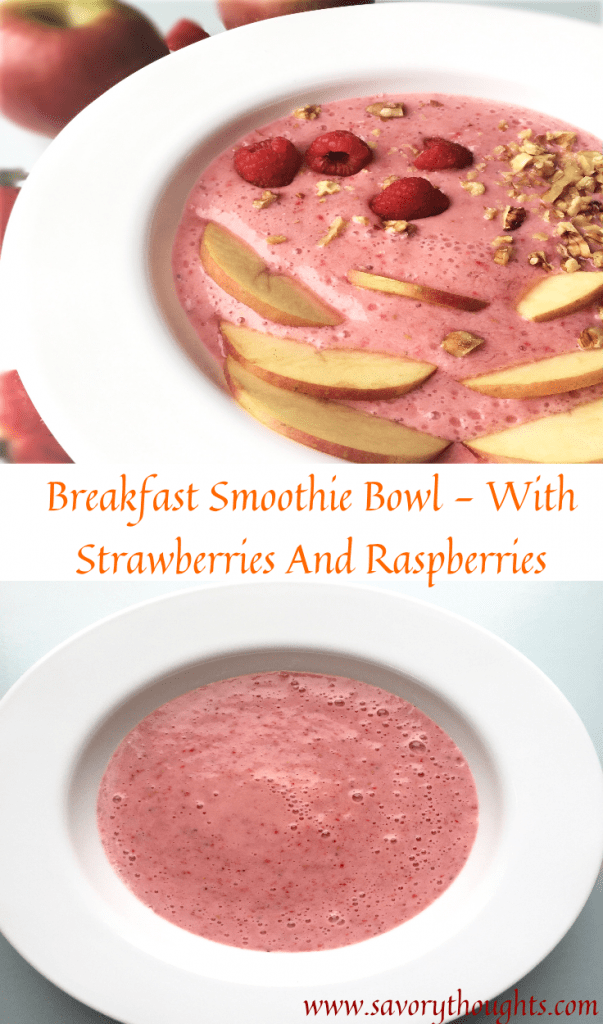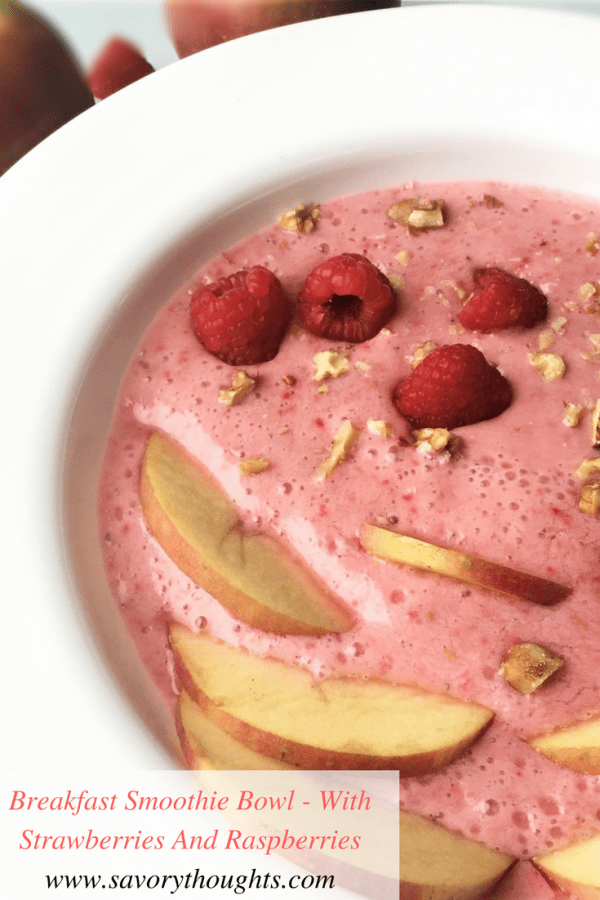 Prep Time

5

minutes or less
Cook Time

2

minutes or less
Prep Time

5

minutes or less

Cook Time

2

minutes or less
Wash the fruits thoroughly.

place all the ingredients in a blender and blend until smooth.

optional toppings - apples, walnuts, and raspberries.