Oh…Sweet Monsoon!
I received this product for free in exchange for an honest review, but all content and opinions are my own. 
Hi friends! I hope you are you ready to begin a new a week. Christmas is around the corner and of course, the New Year is not too far behind. I've had the awesome opportunity during the month of November, shortly before Thanksgiving, to make some new friends at The Chai Box. I've received the SWEETEST tea box from them. Oh…Sweet Monsoon! And am I excited to share this review with you!
The Chai Box is operated by two lovely sisters that have a passion for Chai. These ladies grew up in an Indian household and started drinking Chai at the age of two. As early as 12-year-old, they started learning how to blend teas, unlike most of us who were preoccupied with doing our nails and keeping up with the newest trend; they were learning to develop the love for Chai, which is now a part of who they are as women today.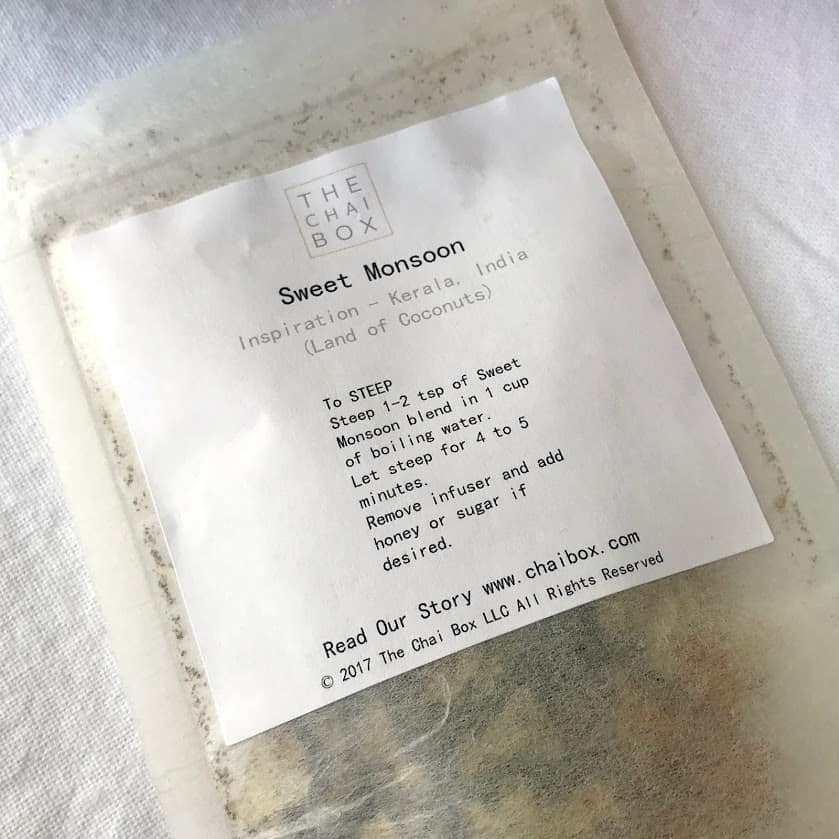 These sisters, through their travels, picked up various skills that helped them perform many soothing blends with various spices to perfection.
Every year after Thanksgiving, hubby usually host a Post-Thanksgiving brunch with some close family and friends. Of course, I could not wait to share The Chai Box with my Chai and Tea lovers.
Most of all, the sisters impressed me with a short-handwritten message.
I brewed the tea, and without saying a word to some of my tea lovers, here are their reactions.
"The aroma is subtle"
"The number one ingredient I noticed is clove"
"I mostly taste cinnamon"
"The first ingredient I taste is coconut"
"The tea is soothing"
"I would purchase this tea"
"I would include this tea in my collection"
"A good tea to have on a Sunday during a rainy day while reading a good book"
My Personal Opinion:
All of the comments mentioned above were true of the Sweet Monsoon tea. My first initial thought of the tea was that the clove was very vivid. The first ingredient I tasted was the clove. While some of us mix the tea with milk and creamers. The tea was just as satisfying.  However the tea is mixed, the flavor does not disappoint. On their website, the sisters list various tea options with different spices, which include robust and fragrant flavors.
Because we are currently in gift-giving season, currently The Chai Box website list 4 different gift options for the Chai lovers in your life.
All Chai'd Up Gift Set
Sweet Monsoon Gift Set
Punjaban Party Gift Set
True Blend Gift Set
Check them out! You will not be sorry. The tea lives up to the expectation.
The Sweet Monsoon tea is also great with these Individual Cheesecake Bites.
***
All you need is Grace. Grace is given to us by Him for every situation.